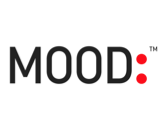 Mood Media has entered a partnership with Denon Electronics to make its Mood Mix available on the HEOS wireless multi-room sound system. This means that Mood Media's commercially licensed streaming music service can be used more easily by businesses that own HEOS systems. Mood Mix is specifically designed for use as a soundtrack in retail environments.
"The integration of Mood Mix in the HEOS app puts an enormous selection of properly licensed music that has been curated specifically for businesses, in the palm of your hand," said Trey Courtney, Mood Media's senior vice president of product and partnership development. "This combination offers an affordable, flexible way to create a customized music experience, combined with the excellent sound quality of the HEOS wireless speaker technology."
Mood Media debuted a social angle to the pro tier of its business product in August. The Social Mix option lets customers play DJ in the store from their phones.