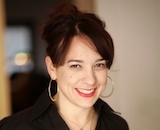 Molly Neuman is leaving her position as head of music for Kickstarter after two years with the crowdfunding platform. She is joining Songtrust as the company's first Global Head of Business Development. Songtrust is a global royalty collection service and publishing administrator. It runs services for helping members of the music industry to understand the royalties that are owed to them.
In a blog post explaining the move, Neuman shared a story from her days as a member of the riot grrl band Bratmobile. During a UK gig, the group got help in setting up the performance royalties that a venue would pay them through local collection agency PRS for Music.
"No other opportunity has felt like more of a perfect next step for me to continue to advocate and offer support to songwriters, artists, and independent music companies," Neuman said.