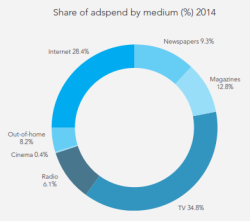 A new U.S. advertising forecast for 2015 and beyond, from ZenithOptima, projects mobile ad revenue for Internet radio to exceed desktop streaming revenue this year, and to leap ahead for the next two years.
The projection corresponds generally with mobile consumption of online audio, which has been over 60% of webcast listening in Triton Digital's monthly Webcast Metrics report.
Internet radio ad revenue as a whole, desktop plus mobile, is projected to be fractional ($1.5-billion) compared to broadcast radio ($17.5-billion) in 2017. But mobile ad revenue for streaming radio will make up a third of the total amount, according to ZenithOptima.
The forecast report covered podcast advertising too, foreseeing growth over the next few years from $34-million this year to $37-million in 2017.