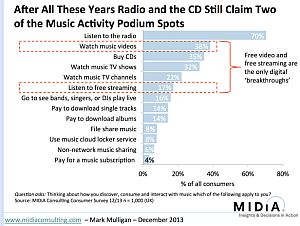 Internet radio and streaming audio have inched toward mainstream use, but still lag other media consumption types. A new study from MIDiA Consulting (Media Insights & Decisions in Action) seeks to discover why — while profiling digital music users generally.
Titled Decoding the Digital Music Consumer and sharply written by MIDiA founder Mark Mulligan, the survey is U.K.-centric, with a sample size of 1,000 respondents. The broadest discovery point is that digital music as a whole remains a niche sector, except for massive YouTube use. (See our related piece on YouTube as a sleeping giant.)
The study ranks music consumption behavior as "podium spots," with radio holding the top slot with 70% positive survey responses. Free streaming is used by only 17 percent, and music subscriptions are purchased by only 4 percent. Mulligan identifies three barriers to entry to the world of streaming consumption:
Price: Mulligan believes that music service subscription prices do not hit a "mass market price point";
Commitment: This holds back occasional music buyers;
Trepidation: Here, Mulligan postulates that the subscription music catalogs are too big, creating a "tyranny of choice" dilemma for potential buyers.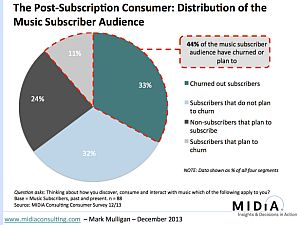 The study identifies a huge YouTube footprint: two-thirds of all free-use and subscribed customers of streaming platforms also go to YouTube for music videos.
Another problem for music subscriptions, according to Mulligan, is customer churn. Because subscription access to a streaming catalog offers nothing more than convenience (e.g. eliminating ads, or enabling downloads for offline listening), there is little retention power. As a result the industry studied in this report suffered a 33% rate of "churn-out."
Click here for Mark Mulligan's summary of his study.