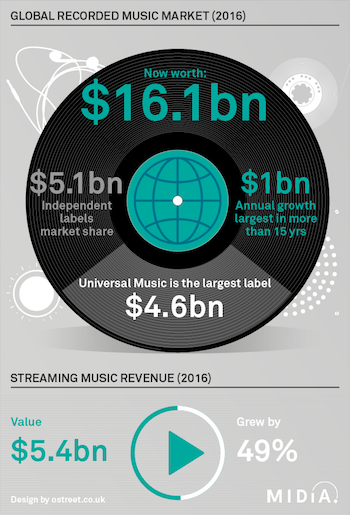 MIDiA Research is always a source of interesting data and analysis for the music industry, and its assessment of the global recorded music revenue in 2016 is no exception. In two recent blog posts, the company explored both the overall performance of the music industry and the shares of that performance secured by each of the major labels.
Global recorded music market was worth $16.1 billion in 2016. The year's 7% growth over the 2015 performance marked the biggest increase in revenue since the market shift sparked by the advent of Napster, according to MIDiA data. Streaming was a big source of revenue for the global industry, valued at $5.4 billion for the year on growth of 49%. Spotify was a critical component in streaming, with 43% of the 106.3 million subscribers worldwide by the year's end. Apple Music and Deezer also contributed notable growth for streaming. The addition of new services from Amazon and others mean that 2017 is projected to also see subscription numbers rise.
Of the three majors, Universal Music Group is still the top performer by market share. UMG had a 28.9% share of the total recorded music market, followed by Sony Music with 22.4% and Warner Music at 17.4%. Indpendents saw their share dip by 0.3% but still combined to hold the biggest piece of the whole pie at 31.3%. The ordering of size is the same for just the streaming market, with Universal at 30.4% share, Sony at 22.7% and Warner at 18.6%. Independents had a 28.3% share of the streaming market share.
The analysis comes from MIDiA and Music Business Worldwide's tracking of record label and publisher financial releases through the year. It also pulls data from MIDiA's market sizing work on the publishing sector, research for the Worldwide Independent Network, and reports from nation trade bodies and PROs. All local currencies were converted to dollars.