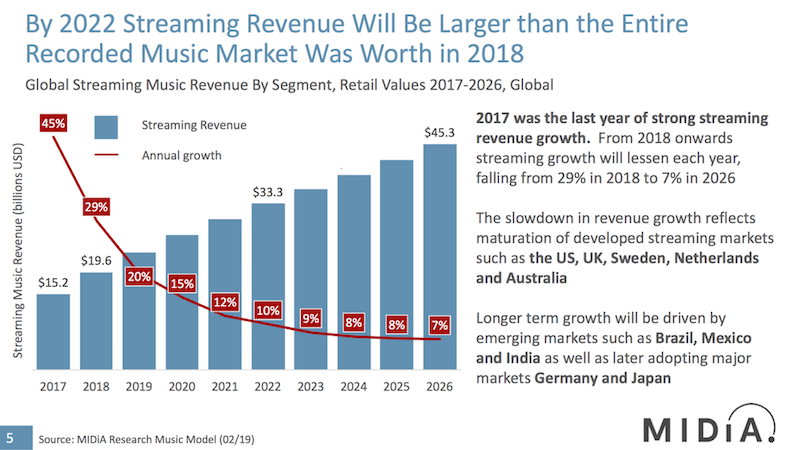 MIDiA Research has released an executive summary of its subscriber report with a forecast for the global music industry from 2018 through 2026, and the analysis shows that streaming will continue to be critical to the sector's success. By 2022, the report anticipates that streaming revenue is set to exceed the music industry's total revenue from 2018.
The next eight years are expected to see a shift in revenue sources around the world, with overall growth in streaming revenue expected to slow from 29% in 2018 to 7% in 2026. That anticipated decline reflects mature streaming markets such as the US, UK, Sweden, Netherlands, and Australia reaching saturation. However, according to MIDiA, newer markets such as Brazil, Mexico, and India could help provide long-term growth, as could countries such as Germany and Japan that have been slow to adopt digital listening. Even with slower growth, MIDiA still projecting that streaming's retail revenue will more than double from $19.6 billion in 2018 to $45.3 billion in 2026.
In terms of subscriber audience, the U.S. and the UK are expected to remain the two biggest streaming markets through 2026. MIDiA noted that subscriber totals may be skewed by shared family plans. The report found that there were 278 million paid subscribers by the end of 2018, stemming from 242 million unique subscriptions.