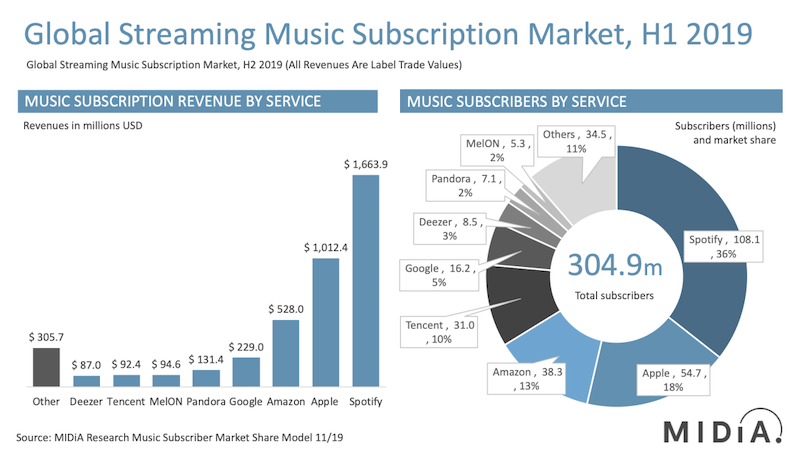 MIDiA Research has published data about the global streaming market shares of different services for the first half of 2019. The report found that there were 304.9 million streaming music subscribers around the world at the end of June 2019. That's an increase of 34 million subscribers fro the end of December 2018 and 69 million from the close of June 2018.
Spotify is the top service globally, both in terms of subscription revenue and paying audience. Thanks to its 108 million subscribers, the company claimed a global market share of 35.6%. That rate is unchanged from Spotify's results at the end of both June and December of 2018. Spotify also dominated the field with subscription revenue of $1.67 billion.
Apple and Amazon are the second and third largest subscription operations, respectively. Apple had subscription revenue of $1.01 billion and its 54.7 million subscribers gave it an 18% share of the audience. Although Apple did see a small dip in market share between the first and second quarters, it did see a slight uptick in audience for the critical U.S. market, from 34% in Q4 2018 to 31.7% in Q2 2019.
Amazon had a more consistent growth trajectory during the half. Its market share reached 12.6% with 38.3 million subscribers, while subscription revenue totaled $528 million. Amazon is a difficult company to track, though, since it has multiple tiers of access to streaming music, some of which are bundled into its Prime membership program.
Google placed fourth by revenue at $22.9 million. The company has several paid music platforms under its umbrella, including YouTube Music and YouTube Premium. MIDiA reported the tech giant as having 16.2 million subscribers, yielding a 5.3% market share.
Tencent fell outside the top five platforms by revenue, but its importance in the Chinese music market makes it worthy of note. The company posted $92.4 million in subscription revenue for the half. And by audience, it bested Google with 31 million subscribers and a 10% share.