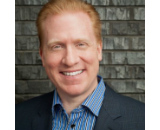 Michael Huppe has signed a contract to remain the CEO of SoundExchange. He has been in the top role at the collection and licensing organization since 2011, and he will stay in that position for another four years under the newest contract. The group's annual collections have grown by more than 150% since Huppe took over.
"Mike's vision and energy have driven SoundExchange through a remarkable period of growth and diversification, resulting in one of the most effective, efficient and transparent organizations in the industry today," said Cary Sherman, chairman and CEO of the RIAA and a member of SoundExchange's board of directors.
Pandora is responsible for more than half of SoundExchange's distributions (as of 2013), but the group has diversified as some music companies have inked direct deals with that audio company. Last year, SoundExchange acquired Canadian mechanical rights society CMRRA, adding music publisher administration to its capabilities. In 2016, its payouts to artists and labels reached a record high of $884 million.