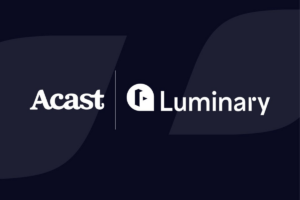 Today we learn of a strategic partnership that brings podcast network Luminary together with global podcast platform Acast. Six Luminary exclusives will leave the walled garden for Acast's open platform. Additionally, Acast will serve as Luminary's monetization agent for those shows.
Only three of the six shows are named in today's PR blast:
Under the Skin with Russell Brand,
Joking Not Joking with Mo Amer and Azhar Usman
How I Masaba with Masaba Gupta
The deal is particularly notable given Luminary's fiercely subscription-only business structure. "The partnership will complement Luminary's subscription business model," we are told.
Luminary's launch in April, 2019 was one of the most troubled lift-offs we've ever seen (extensive RAIN coverage HERE), but the network persevered and established itself solidly in its non-RSS space. Prominent podcast personalities affiliated with Luminary include Guy Raz, Mo Amer, Trevor Noah, Radio Rahim, Lena Dunham, Dave Chapelle, Corinne Fisher, and Krystyna Hutchinson.
Veronika Taylor, SVP Creator Network at Acast, said, "Acast has consistently advocated for an open, barrier-less podcasting environment, and this partnership underscores our dedication to making exceptional audio content easily accessible to all and monetizable everywhere. Podcasting is not a one-size-fits-all environment, and Luminary's decision to leverage Acast's technology and expertise highlights our shared commitment to an innovative strategy which has listeners at its heart."
Chairman and co-founder of Luminary Matt Sacks said, "Luminary was founded with a vision to produce high-quality shows that move listeners. Our partnership with Acast will allow us to highlight culture-defining content like star-studded interview shows Under the Skin with Russell Brand and Joking Not Joking with Mo Amer and Azhar Usman, while giving these artists —and their excellent work—the wider audience they so deserve."
---