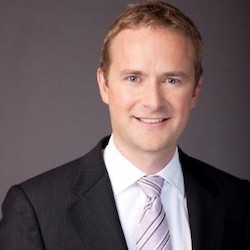 Podcast network Luminary Media has a new CEO and a new influx of funding.
Simon Sutton is stepping in to lead the subscription audio platform. He was previously president and chief revenue officer at HBO. With Sutton's arrival, Matt Sacks, the company founder who was serving as CEO, will transition to being executive chairman for Luminary.
"Luminary is a fun and exciting company with a great business model that's reminiscent of the early days of HBO," Sutton told Variety. "When HBO started the rest of the television world was big, broad, ad-supported. It created something different and that's what Luminary is trying to do."
"It is hard to imagine a more positive and transformative development for Luminary than to have Simon lead our company day to day," Sacks told Luminary's staff in a memo announcing the news. "Simon is a seasoned media executive who at one point or another ran every functional area of one of the most successful subscription content businesses in the world, consistently growing subscribers, revenue, and profit."
In addition to new leadership, Luminary has secured an additional $30 million in a series C financing round. Sacks told Variety that the latest funding would be put twoard content, but did not elaborate any further.