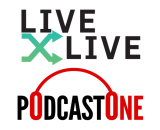 Streaming concert service LiveXLive acquired PodcastOne in May of last year. In its Q2 earnings report, LiveXLive CEO and Chairman Rob Ellin evangelized the acquisition: "LiveXLive expects the acquisition to be accretive, strengthen its balance sheet and diversify its business model with a significant advertising component."
In its Q2 earnings call, Ellin again cited the potential growth capacity of PodcastOne — "The acquisition of PodcastOne in July continues to be meaningful and accretive." He cited a handful of metrics:
PodcastOne served 2.38-billion downloads in the 12-month period ending June 30.
The podcast company owns and operates 235 exclusive shows.
PodcastOne produced over 300 episodes per week.
Ellin referred to PodcastOne's content business as being part of "a flywheel of wholly owned businesses that work together in a complementary and synergistic fashion."
The earnings report was for the business as a whole, of course, and these are the key financials:
Revenue increased 69% (to $28.8-million)
Thirteen consecutive quarter of record revenue
175% increase in contribution margin to $7.8-million
Full-year guidance increased to between $115-million and $125-million.
.