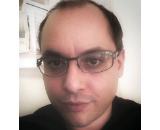 In a move that seems to cross a perceptual boundary between music artists and music services, Casey Rae, CEO of the Future of Music Coalition, is resigning that post and taking the role in Sirius XM as Director of Music Licensing. He will remain in Washington D.C.
The Future of Music Coalition is a non-profit whose mission is to "support a musical ecosystem where artists flourish and are compensated fairly and transparently for their work." As such the advocacy points toward sustaining the livelihood of musicians in a granularized era in which albums and track downloads suffer reduced consumer value, and streaming is based on scaling up micropayments. Many musicians are unhappy, rightly or wrongly.
Sirius XM holds an unusual niche in the audio listening ecosystem, not quite radio and not quite music service. Sirius is a subscription service, but non-interactive like radio. In the polarized us-vs-them landscape in which royalty rates are litigated, Sirius XM and musicians sit on opposite sides of the table.
SoundExchange is the music royalty collection agent for Sirius XM, as it is for Pandora and other webcasters. There is a five-year royalty cycle for satellite radio, as there is for webcasting, and both are governed by the Copyright Royalty Board (CRB). But the royalty cycles are not synchronized. New webcasting rates were announced in December 2015 for the 2016-2020 period. Sirius XM starts a new period in 2018, lasting through 2022, and the long rate-setting process starts this year. It represents the third such cycle, abbreviated as SDARS III (Satellite Digital Radio Service).
All this to say that Casey Rae is interestingly crossing to the other side of the table. Dick Huey, president of the board of Future of Music Coalition, will step in as interim CEO. "FMC will continue, as there is plenty of work to be done," said Casey Rae in an email announcement.