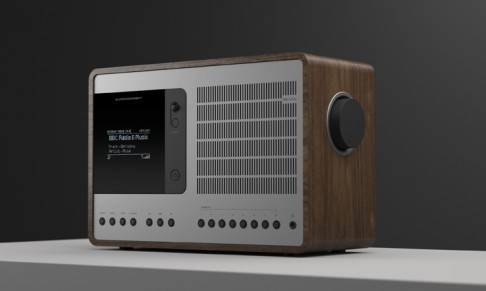 This is the season of wireless speakers. We have written recently about the Samsung Shape, the Bose SoundTouch, and the Sonos Play:1. Each one of these WiFi-enabled speakers can stream a music collection from a computer, and access whatever online music services are bundled into the controller apps. This product category clearly seeks to displace home radio receivers, just as online music services potentially bite into AM/FM listening generally.
A new, soon-to-be-released product from Revo, a Scottish audio device company founded in 2004, modifies that trend with a tabletop unit which combines over-the-air broadcast with Internet radio and music-service streaming. Mightily called the SuperConnect, it is a real radio with an FM tuner (accommodating DAB and DAB+), mashed together with WiFi streaming. 
Uniquely, the SuperConnect has baked-in Spotify Connect compatibility. Spotify Connect is a wireless flinging technology similar to Google's Chromecast. It is designed for digital speaker systems to receive a Spotify stream playing on a smartphone. The user touches a Connect icon in the Spotify app, then selects which Connect-enabled reception device (like living room speakers) will pick up the stream. As of now, SuperConnect is the only radio receiver that works with Spotify Connect.
In addition to the unprecedented bundling of FM, WiFi, and Spotify Connect, the Revo SuperConnect contains an on-screen joystick controller that encourages the user to explore the far-flung universe of radio webcasts — becoming the latest in a history of devices attempting to install borderless radio listening in the home. In this case, that function is not the main act, but an add-on to the main category of WiFi streaming, with a pioneering implementation of Spotify Connect.