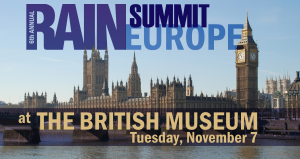 The 6th annual RAIN Summit Europe returns to London for the fourth year, November 7 at the beautiful BP Theatre in the British Museum.
As is traditional at this event, RAIN founder Kurt Hanson will deliver his State of the Industry address, a snapshot of industry data, trends, and insights customized to the European audience.
In addition, three key presenters have recently joined the speaker list for November:
Mark Mulligan: Founder of MIDiA Research, an innovative knowledge organization that serves some of the most interesting and illuminating research reports in the online media space. Mark spoke to a great acclaim at the 2016 conference, and we are delighted to announce his return this year.
Oliver Deane: Director of Commercial Digital at juggernaut U.K. radio group Global. Oliver last presented at RAIN in 2015, and it is good news for all attendees that he has agreed to return this year.
Sam Crowther: Head of Creative at digital audio advertising company A Million Ads, Sam created a sensation last year with his immersive "Power of Sound" audio theater. He promises an all-new presentation, but with the same riveting production and mesmerizing effect.
In addition to special presentations, RAIN Summit Europe discussion panels will bring industry experts and top influencers together to explore and debate digital audio advertising, measurement, podcasting, and new forms of distribution. (Yes, that means plenty of info about smart speakers.)
Right now is the time to register before ticket prices go up. CLICK HERE to reserve your space in the gorgeous British Museum venue.