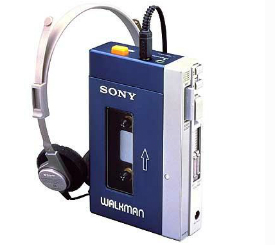 Alan Cross's always entertaining Journal of Music Things clued us into a milestone: Today is the 35th anniversary of the Sony Walkman's launch.
The Sony Walkman was not the first product to demonstrate the mobile potential of music — that would be the transistor radio. But the Walkman did give mobility to personal music collections, via cassette tapes. Now, of course, smartphones have displaced Walkmen (cassette  and CD versions), and have obviated physical media in favor of virtual files and streaming on the go.
Alan Cross lists off several fun facts and memory-lane attributes of the Sony Walkman, including a predecessor gadget that battled Sony in courts for years before receiving a settlement. Also, did you know that the Walkman made people healthier? The device evidently contributed to an outdoor fitness craze in the early 1980s.
The Sony Walkman is now an historic artifact, of course. Or is it? If we're celebrating Cassette Store Day, is there still a market for the clunky mobile tape player?
EXTRA READING: A historical birthday celebration from Time.