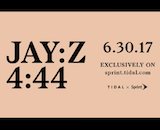 Last week marked the release of 4:44, the much-anticipated new album from Jay-Z. The work was released as an exclusive to Tidal, which is owned by Jay-Z and Sprint, which bought a 33% stake at the start of 2017. 4:44 marked the first big push between the niche streaming service and Sprint, but the release has not been the smoothest of sailing, an indicator that exclusive album releases are still a contentious approach to distribution that require careful planning to be successful.
First, the good news for non-Tidal subscribers: 4:44 will not be gated to the platform indefinitely. A source told Billboard that the album is expected to arrive on Apple Music and iTunes next week. A physical release is also planned, but the source gave no timeline for that project. Until then, 4:44 will continue to receive radio airplay. Since the release date, the album got a showcase on 160 iHeartRadio stations
Second, the not-so-good news for Tidal and Jay-Z. According to MUSO, 4:44 was pirated 971,196 times in the 72 hours since its release. Over half (56%) of the illegal downloads happened in the U.S. It's impossible to make a definitive argument that exclusivity played a part in that high number. Any highly-anticipated work often shows a higher rate of piracy. But we have noticed that exclusives are frequently tied to large piracy rates, and that's a trend for all parties in the music industry to be aware of.
Finally, it's worth noting what a backlash the exclusive move created. Jay-Z is a true icon, and many, many people wanted to hear the new work as soon as possible. Even fellow performers such as Snoop Dogg and Mark Ronson have been publicly disgruntled about 4:44's restricted availability.
Those reactions show how fine a line artists have to walk when pursuing alternate distribution paths. A large fan base is usually critical to still being successful with an exclusive or windowed album release. Taylor Swift's exit from free streaming wouldn't have been nearly powerful without the support of her millions of fans. But limiting access can also alienate those same fans, who might feel betrayed at being shut out if they can't afford or simply don't want to maintain subscriptions to all the different streaming platforms that have exclusive content.