James Cridland is Managing Director of media.info, and an Australia-based radio futurologist. He is a consultant, writer and public speaker who concentrates on the effect that new platforms and technology are having on the radio business. Find out more or subscribe at http://james.cridland.nets
---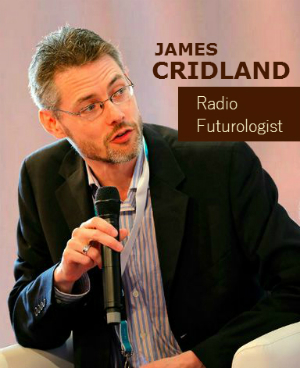 James Cridland sends us his weekly links with this interesting commentary:
I note that Overcast, the podcast client I've been trying out on my iPod Touch, has an audio compression button. Click it, and it applies (quite fearesome) dynamic compression to allow everything to be audible rather more clearly.
I've long believed that, for some content (particularly speech), dynamic audio compression is something that the receiver ought to be doing. My use-case for this is waiting for a train (very, very quiet); then a train arrives and you get on (very very noisy). My ideal podcast app – or radio app – would use the microphone and apply varying amounts of dynamic compression to keep the content audible without the user having to change the volume. Can someone make this for me?
James Cridland's articles
United Kingdom
United States
Australia
Elsewhere