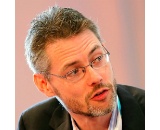 James Cridland is Managing Director of media.info, and an Australia-based radio futurologist. He is a consultant, writer and public speaker who concentrates on the effect that new platforms and technology are having on the radio business. Find out more or subscribe at http://james.cridland.net
---
James Cridland's articles
I look at the Manchester bombings and suggest how to get your tech right to help with an emergency in the future. The sub editor for radioinfo.com.au, I notice, has also added "and get the facts right, too!" as a subtitle, and that's entirely correct!
United States
United Kingdom
Australia
I did a little bit of maths on the latest survey figures. Melbourne is supposed to be the place in Australia with incredibly well-performing AM stations: so how's the platform split in the city? Share of AM radio listening in Melbourne: 34.5%. Share of FM radio listening: 53.8%. (Both figures include simulcasts on DAB and IP). Do you know of a market anywhere in the world where AM beats FM? I'd love to hear of one.
Sad to see EON Sports Radio cease live programmes on Friday. Audio of the presenters finding out here. The station is still on-air (DAB in metro cities in Aus), with a simulcast of the UK's talkSPORT.
Elsewhere