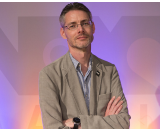 James Cridland, radio futurologist, is a conference speaker, writer and consultant. He runs the media information website media.info and helps organise the yearly Next Radio conference. He also publishes podnews.net, a daily briefing on podcasting and on-demand, and writes a weekly international radio trends newsletter, at james.crid.land.
---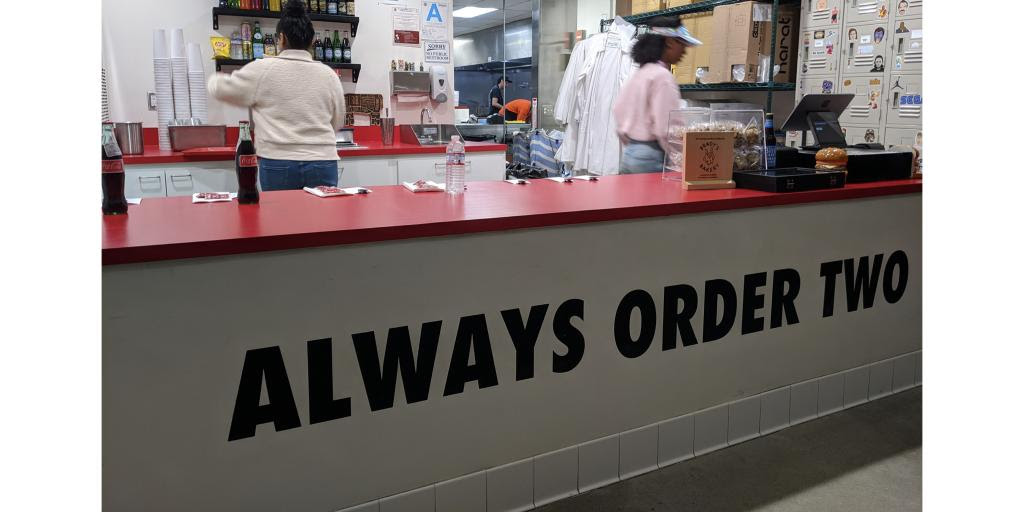 Above: "Always Order Two", the sign under Burgers Never Say Die, a burger joint in north Los Angeles. I went with three Canadian friends. We all followed the marketing suggestion, and ordered two. Either this is genius marketing, or we're all terribly polite.
Terms and Conditions
One of the best things that Radiocentre is doing in the UK – and they do plenty of great things – is to fight pointless pieces of legal nonsense. In this particular case, they've managed to successfully lobby to remove a lot of the "Ts and Cs" for advertising in the automotive sector: like the pointless "Over 18s only" when offering credit on a car. Congratulations to them for doing this.
As an example of how bad it is, here's 24 hours of a UK radio station – LBC, in this case – with everything edited out except the terms and conditions. They add up to 5% of the entire station output.
UK radio should count themselves lucky they're not following Australian law, where "in order to help consumers", ads for builders must legally include a QBCC licence number ("QBCC 1111495" as one example); radio competitions must mention their Trade Promotion Permit number, which differs per state (for 2day-fm, their usual one is LTPM/19/05152), and that's just the tip of the T&Cs iceberg. Broadcasters the world over should learn from Radiocentre.
That said, many of the T&Cs are put there for no real reason whatsoever, I can tell you as a former advertising copywriter. Lawyers are, by nature, risk-averse: and would rather cover themselves by pointing out that a packet of peanuts "contains nuts" than run the risk of someone assuming that it actually contains legumes. Which it does. But… never mind.
Elsewhere…
A brand new radio station has launched in London, UK. And it has a "pod jock". Welcome, Podcast Radio – and I'm delighted that I'm on it, multiple times a day, with the Podnews podcast.
Impressive to see this from LBC, a radio station which now has a specific Head of News for its online services. Here's what looks like a reporter for the station in vision. (It's actually from Feature Story News, but it's impressively done)
A new idea! A new music scheduling system that boasts "artificial intelligence" is now being used in Ireland. It uses rather a lot more data, it seems, than a typical music test.
The UK government's apparent attack on the BBC is depressing. What's worrying about the coverage, from my vantage point from down here in Australia, is that I don't see very many people jumping to the BBC's defence, after a number of embarrassing slips over the last few years.
As one example – this headline. BBC licence fee latest: Outrage after bosses 'waste' money on £10k a night hotel room. I'm a big fan of Greg James, but the stunts – which were a breath of fresh air at the start of his show – are losing their effect. The only feedback I saw on this particular one was that it was all a little too obviously staged.
Unsurprisingly, Times Radio in the UK is offering big bucks to BBC journalists, but it's also a chance to escape the suffocating scrutiny of the BBC over the next year or so. Given the opportunity for a wage increase, a column in The Times and broadcasting with rather more freedom for Times Radio, it's going to be hard for some people to resist. Here's Roy Greenslade on the fledgling station.
I picked up a copy of The Australian earlier this week. It's Rupert Murdoch's vanity project, a national newspaper for Australia: just 16 pages long, and contained just two advertisers. I can't help wonder whether Times Radio, also fueled by little more than management whim, makes any financial sense either.
New ideas are not always welcome – not just in radio, but podcasting too. A disappointing time at the Podcast Movement Evolutions conference a few weeks ago, where the podcast industry has probably split in two.
The Land of the Free likes free speech on the radio, except when it's not from the sort of people they want, it seems. Radio Sputnik, a Russian-funded broadcaster, was available 24/7 in London for some time, but eventually disappeared. I don't quite know why that wouldn't happen here, too.
Nielsen: Younger listeners driving weekly time spent for streaming audio. Probably also realising that this time comes from somewhere – and there's a reason why most countries don't release total time-spent-listening data for individual age groups.
Have Layoffs Done Collateral Damage To Radio? asks Fred Jacobs of the iHeartMedia layoffs.
South Africa vs UK radio – an interesting comparison