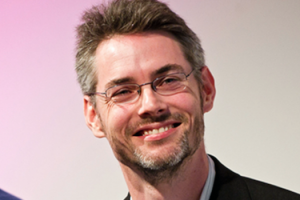 After a five-year run without missing a week, radio futurologist James Cridland has ended his weekly "Radio Tomorrow" column in the RadioInfo trade publication. The final column ("Goodbye and Keep Listening") serves as an announcement and farewell to readers.
Cridland remains a consultant to radio and podcasting, writes the daily Podnews newsletter, which is a Media Partner at the upcoming RAIN Summit Europe. RAIN has enjoyed a long connection with Cridland, who has spoken at, and co-hosted, the global RAIN Summit series.
"I've managed to do this every week, almost, in spite of moving 10,000 miles from that little room in North London to a slightly sunnier room in Brisbane in Queensland, Australia, where the radio dial is the same but different; and where as long as I have internet I can still enjoy almost any radio station on planet Earth," Cridland writes in the final column. He notes that he has been professionally involved in radio for over 30 years.
"Don't forget how much people love what you do, and keep listening," he ends.