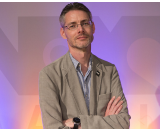 James Cridland, radio futurologist, is a conference speaker, writer and consultant. He runs the media information website media.info and helps organise the yearly Next Radio conference. He also publishes podnews.net, a daily briefing on podcasting and on-demand, and writes a weekly international radio trends newsletter, at james.crid.land.
---
It's not fun, this virus – and not fun for the financial impact, which I gather is significant.
All the data I'm seeing is showing that streaming of radio stations is significantly increasing – because we're at home, with our smart speaker, and with access to plenty of bandwidth. Radio would do well to ensure that the stream sounds as good as possible. If you're replacing ads in your stream, are they being replaced cleanly and well, and are you harming your audience by playing four crappy PSAs round and round and round? Does your stream sound as well processed as your FM audio (and if not, how can you fix that)?
In terms of programming: I'm not a radio programmer. But it seems to me that we owe it to our audience to give them timely, sensible, information. It doesn't benefit anyone to spread ill-informed rumour; not to dumbly attempt to politicise a virus. Use of words like "lockdown" are inflammatory and spread concern and worry – if you can go to the supermarket, it is not a lockdown, and you are merely encouraging panic buying. Now is not the time for exaggeration or wild speculation.
We also owe it to our audience to recognise that a) there will be kids listening much more than normal now, so less effing and blinding, and less naughty talk; b) your audience might want to hear a little more about anything other than the coronavirus, and a feel-good radio station ought to be focusing on feel-good stories from the virus, surely; c) a random piece of automated rubbish or re-runs of old programs will only serve to annoy, not to benefit the audience; d) your DJs are human too, and they should be using every effort to connect with audiences on a human level. The fact many are broadcasting from home is a thing to use, not to hide.
My definition of radio is "a shared experience with a human connection" (in audio form, of course). Now is the time to make the most of that. It's the thing that Spotify can't offer.
---
I bang on about radio no longer needing big expensive studio facilities, and congratulations to the many people who are now broadcasting from home: and it's a shame to notice that the cuts at the BBC have meant that we're temporarily without Rhod Sharp, who's been broadcasting from home for much of his time at Up All Night.
Just like many things after this virus, I suspect that radio broadcasting will never be the same again. I suspect we're seeing quite a few people realise that fancy studios might not be required any more. 58% of stations, apparently, according to iHeartMedia's Inside Radio, have many broadcasters from home.
Good luck, folks.
---