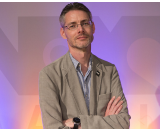 James Cridland, radio futurologist, is a conference speaker, writer and consultant. He runs the media information website media.info and helps organise the yearly Next Radio conference. He also publishes podnews.net, a daily briefing on podcasting and on-demand, and writes a weekly international radio trends newsletter, at james.crid.land.
---
How are we all doing? Interesting times.
First, a favour – please consider subscribing to Podnews, here. If you're interested in the future of audio, you'll get a lot from looking about how podcasting is doing, from a business and content point of view. And it basically pays my salary now that I can't go anywhere, and I could really do with the subscribers. Thanks.
While revenue is down for many radio companies (quite seriously, as I understand it), radio ratings is a bit of a mixed bag: partially because the research methods have been disrupted by the coronavirus, so we don't have all the data.
National Swedish radio uses PPM, and Kantar report on the Swedish radio numbers every single week. Here is the PPM data – "2020 V17" means "week 17", but otherwise Google Translate will help you. Sweden started their lockdown procedures in mid-March, week 12 – to my uneducated eye, the first few weeks showed a dip of 1% of total daily reach overall, well within the margin of error. Week 14 showed a slight bump in favour of SR P1, the national news and talk station, though it seems it was only temporary. In short – little change.
Canada also uses PPM. Westwood One do a good job of pulling data in from other sources (though it should be noted that their job isn't to be entirely dispassionate); they see a dip of about 14% of weekly reach. Yes, of course, at-home listening has increased; and people have switched to news/talk. Other people I've talked to in Canada tell me some stations are much more significantly affected.
In Australia, Commercial Radio Australia released a complex press release claiming that "72% of Australians are listening to as much or more radio", with the increases being stronger in younger audiences. "23% of people say they have decreased their in-car listening, [while] 18% in fact report listening to more than before", because nobody wants to use public transport.
Radiocentre in the UK have also released some data, possibly even more complex than CRA's, showing increases for some people. "38% of commercial radio listeners are tuning in for an extra hour and 45 minutes each day since lockdown amid the COVID-19 pandemic, as they adjust to spending more time at home. These listeners are now tuning in for an average of 26 hours every week, compared the average time spent listening of around 14 hours a week prior to the health crisis."
Across European countries, RadioAnalyzer have published some figures. I don't fully understand what the numbers are, I'll be honest – they look nothing like radio listening I'm used to – but I've a lot of respect for the company, and so will link to them in case you understand them more. In essence, they basically say things are different but not particularly bad.
Financially, UK community radio is in trouble, Australian community radio is asking for support, too. Radiocentre have asked for assistance; Commercial Radio Australia, too, has got some relief but wants more. There's no doubt that even if people are listening to radio during this time, that doesn't mean that the money is still coming in.
There are plenty of stories of radio presenters doing their shows from home. Griffo, on my old station of Pulse 1 in Bradford, has a most impressive-looking studio; most others are nothing more than a microphone and a laptop.
The BBC did a bit of self-congratulatory video about one of their local radio services; but the point is that radio is meeting a real need in these times, especially with the rather more invisible benefits of mental health.
In podcasting, most companies are seeing a small drop. Podtrac shows a decline but carefully talks it up by comparing it with week 1; Voxnest makes great play of different countries and different categories. Revenue is down a little, but what's clear is that changing habits are changing consumption.
Meanwhile, some radio stations in the US are playing Christmas music, because of course they are.
In other news