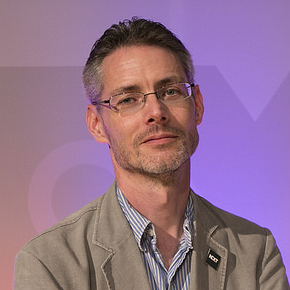 James Cridland, radio futurologist, is a conference speaker, writer and consultant. He runs the media information website media.info and helps organise the yearly Next Radio conference. He also publishes podnews.net, a daily briefing on podcasting and on-demand, and writes a weekly international radio trends newsletter, at james.crid.land.
---
In my home city of Brisbane, 4BC (newstalk) and 4BH (oldies) switched AM frequency last week – apparently the first time this has happened in Australia. Here's some split audio – headphones on! The 6.3kW 1116 AM transmitter is on the coast in Nudgee, and apparently had trouble reaching the Western suburbs of the city, whereas the 5kW 882 AM transmitter is, oh, much the same sort of distance away in Wynnum, and less powerful, so.. perhaps someone reading this can help me understand how transmitters work. (It's not co-channel interference: 1116 is used in only one other place in Australia – Melbourne, 1,100 miles away. Perhaps it's a TX pattern thing.)
Anyway, it was fun to be on-air on 4BC this Saturday: introduced as "a Brisbane bloke", I was talking about my live news channel livenow.news website, alongside news of Flash, the new streaming service. Fascinating to look around – and see the hard work that goes on to produce talk radio like this appear so effortless.
They say "Eight Eighty-Two" on-air, which I found surprising, given how close "Eighty" and "Eighteen" are. I'd have gone for "Eight Eight Two". But then, there's probably a good reason for that. There is for most things.
Fun fact: 4BC was taken off-air for a few hours in 2012 because a snake short-circuited the incoming power board. Australia.

Quietly, a milestone has occurred in UK commercial radio: Argyll FM is the last radio station to start streaming: meaning every commercial radio station is now available online. Congratulations to the station (which, through a licensing quirk, is a commercial radio station not a community one, even though it's staffed by volunteers). You can find it on Radiofeeds.
The number of licensed radio stations in the US on Sep 30 was 157 fewer than Jun 30. Meanwhile, in Canada, the CRTC website has not one single application for a new radio licence in the last two months – a record. As I'll say for the Ontario Association of Broadcasters in early November, things are changing in radio.
Some great worldwide data on radio listening, from BPR and a swish-looking redesigned RadioInfo Aus. 4,000 respondents in eight markets. Radio listeners spend 46 minutes a day with it; Podcast listeners spend 28 minutes a day listening to them. Also, a significant drop in radio listening in under 35s.
I've never really understood television, only to think that it all seems a lot of work. Here's a Twitter thread from Tim Langston Jones detailing a typical shift doing graphics for BBC Breakfast television.
France launched 24 radio stations on DAB Digital Radio nationally last week. While Wohnort isn't yet updated, the channels are listed over here. (Incidentally, I find it fascinating that the industry leaves global coverage of DAB transmitter configurations to a bloke called Carey in Scotland. Good on him.)
From the ABC (tv) in Australia – on-brand whistling.
---
It's absolutely not (that) necessary, but if anyone wants to support my work in any way, you can BuyMeACoffee – become a member to give regularly or just give a one-off coffee if you'd like to support me in some way.
.