Jacobs Media has shared the results from its public radio tech survey. The results are from surveys of more than 22,000 public radio listeners conducted in May 2018. Most respondents are members of station databases. Some responses were gathered via station websites and/or social networking pages. Here are a few key data points and takeaways from the full report.
Podcasting
Among public radio listeners, 22% have increased their listening to podcasts. Weekly listening, which is arguably the level at which people can claim to be engaged in the category, depends on age group. Among Millennials, 68% listen at that pace, 54% of Gen X, and 31% of Boomers.
Interestingly, Jacobs asked why people don't listen to podcasts. If we combine three reasons which seem related — don't know how to do it, don't know how to find podcasts, and it's a hassle — a whopping 62% of respondents avoid podcasting because of difficulty. Just as ease-of-use is one of radio's great advantages, the mystery and friction of getting engaged with podcasting hurts that category.
Smart Speakers
The results included a few noteworthy stats about smart speakers. Twenty percent said that owning a smart speaker has led them to listen to either a lot more or a little more AM/FM radio. That increase was even higher among Millennials (28%) and Gen X (22%). Despite those bumps, three-quarters said that smart speaker ownership had no impact on their AM/FM consumption.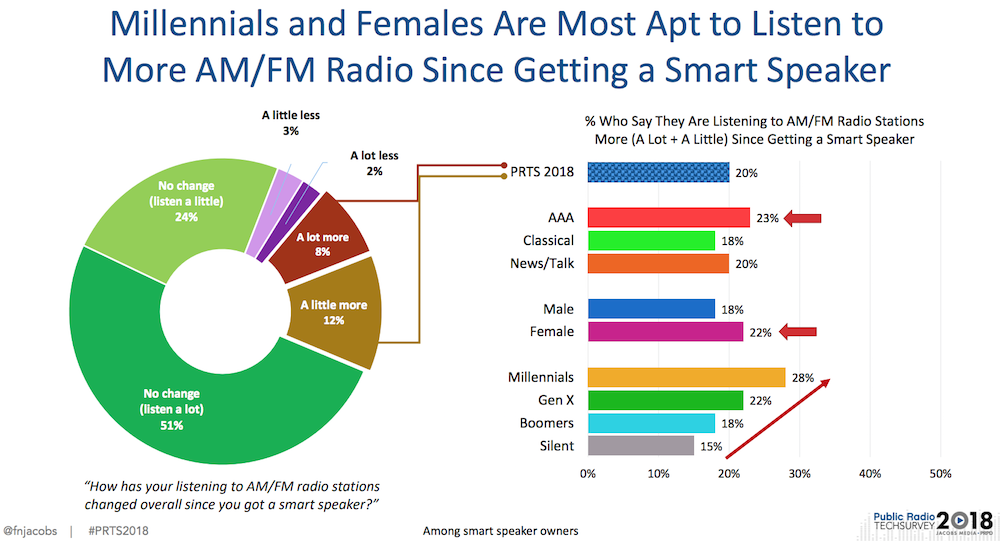 In the Car
The public radio listening respondents of this survey reported that 65% use the vehicle's AM/FM radio every day. Further, FM radio leads the list of most important new-car features. (Followed by Bluetooth and smartphone connector. The specific enablers Android Auto and Apple CarPlay are way toward the bottom, even lower than HD Radio.)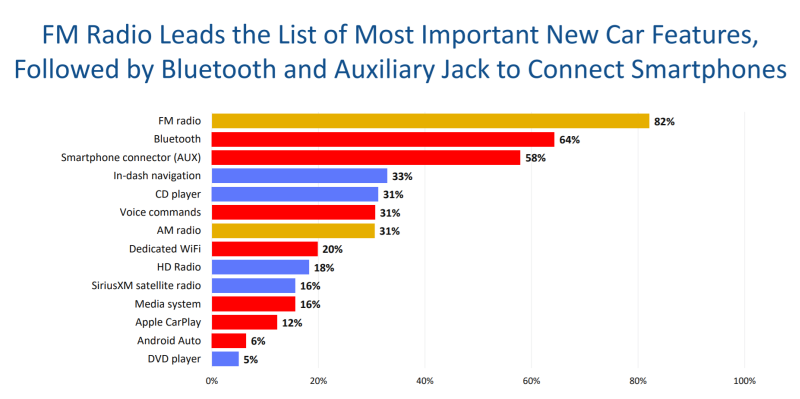 Streaming Audio
Forty-two percent of the survey group listens to streaming audio every day, with 19% tuning in weekly. The percentages, as usual, skew upward as age groups get younger: 76% of Millennials stream audio every day.
Public Radio Perceptions
News and talk content dominates the listening landscape, largely spurred by current events. The 2018 results showed an increasing shift towards listening to news/talk content on public radio. Compared with 40% in the 2016 results, the genre held a 63% majority in 2018. AAA content trailed at a distant second with 16%, followed by Classical with 15%. Listeners' ages also leaned harder into the existing majority. The 65+ group represented 43% of listeners, followed by 27% at 55-64 and 13% aged 45-54.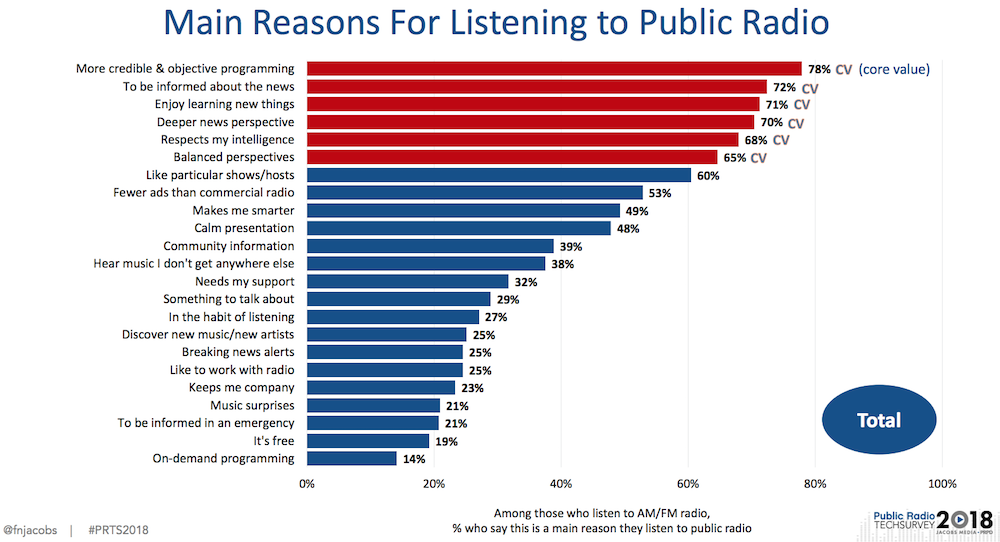 The core values respondents cited for listening to public radio mostly centered on the talk and news genres. The top reason was "more credible & objective programming" with 78%. Being informed and deepening news perspective each secured more than 70% response rates. "Enjoy learning new things" was the only core value not directly tied to news.
The results made sense considering the reasons respondents gave for why they listen to public radio more, which included sentiments such as "feel the need to support public radio now" at 41% and "the 2016 election" at 37%. Women and millennials showed the highest rates of impact from the most recent presidential election, with both groups voicing higher rates of listening to more public radio and providing increased support to public radio following that event. Only 7% of the survey participants said they had reduced their public radio consumption in 2018.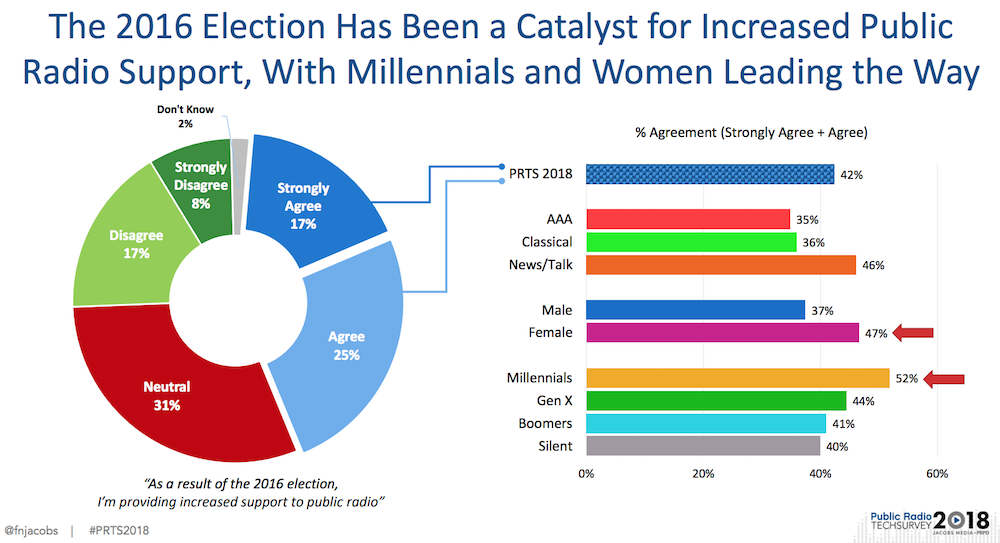 Next, in the tech survey's media pyramid, smartphones and AM/FM radio tied for the top source with 89%. Smart speakers made a strong increase in showing, hitting 20% after just 12% in 2017. AM/FM radio also topped the brand pyramid, which showed the biggest increases among streaming video platforms. YouTube took 40% and SiriusXM had 21%, while most other streaming audio sites trailed considerably.