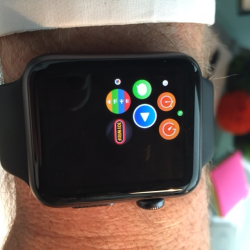 Mobile app developer jācapps announced an initiative called App Everywhere, intending to put radio station brands everywhere that listeners might want them to be, including smartwatches, smart TVs, and digital dashboards in cars.
"These new devices provide radio with an opportunity to maintain and grow its already amazing reach," jācapps COO Bob Kernen said.  "While the smartphone has revolutionized our lives, we are focused on developing apps in cars, on wrists, and in living rooms."
The Apple Watch is the one wearable device mentioned in the press notice about App Everywhere. Google Chromecast is also on the development list, along with car dashboards. jācapps is the House Developer for Ford, according to today's press release.
"We think it is important for our clients' content to be where the audiences are," jācapps CEO Fred Jacobs said.
jācapps started a few months after the iTunes App Store opened, and has built a specialty developing station-specific mobile apps for radio. The company's client list includes radio groups Entercom, Greater Media, Bonneville, Scripps, and Emmis.