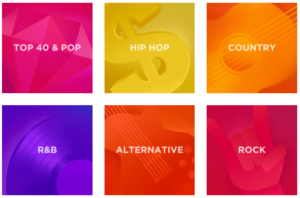 iHeartRadio has made a tactical change to its feature set, moving its thousands of curated music playlists out from behind a subscription firewall. Calling the collection Playlist Radio, these lists are now visible and playable to all iHeartRadio users — previously they had been a selling point for the Plus and All Access subscription tiers.
We found the new playlist access easily in both the web and phone apps. In fact, the new feature's promotion was pushed onto the screen in both environments. As might be expected in a curated list collection, iHeartRadio offers moods, decades, and genres. Digging into the BLUES genre, we counted 30 specialty lists, including several "Thumbs Up" experiences that each focuses on a single artist. In its announcement, iHeartRadio also promotes activity lists such as workout and road trip music.
Why unlock these lists? Probably as a funnel to subscribing: "Remember, only iHeartRadio Plus and iHeartRadio All Access subscribers can create their own playlists, save music from our curated playlists, listen to music offline, play the songs in the order they please, and instantly replay playlist songs they love" — a blog post advises.