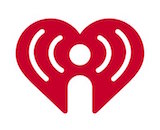 iHeartRadio, the second-biggest podcast publisher in the U.S. according to Podtrac, has unveiled a weekly chart, titled Podcasts Top 100. It showcases the top performers on its platform. A weekly list, it will be updated every Monday.
The inaugural week of the chart is topped by The Ron Burgundy Podcast, one of its original creations. The top five also includes established shows like The Bobby Bones Show and The Joe Rogan Experience. Listings on the show that garnered recognition from the iHeartRadio Podcast Awards have a stamp on their thumbnail images noting the prize.
Lists are always interesting, and usually must be qualified. When comparing the iHeartRadio Podcasts Top 100 with Podtrac's Top 20 Podcasts (the comparison is irresistible) the conditions of both lists should be considered. Podtrac's monthly list includes the company's measurement clients only. So we might speculate that The Joe Rogan Podcast is not a Podtrac client because that very popular program does not appear. Conversely, This American Life does not appear in iHeart's large list of 100 shows, even though it is #2 on Podtrac's list of 20 shows. A broader search of iHeartRadio does not bring up This American Life at all, so presumably it is not distributed in iHR's app.
Another factor to keep in mind: iHeartMedia radio stations (850+ of them) can promote its "family" podcasts, of which Ron Burgundy is one, which might boost listening. And in the "Success Breeds Success" theory, the Podcasts Top 100 list will drive some amount of listening traffic to top shows.
One final quirk: Stuff You Should Know, the flagship Stuff Media (owned by iHeartMedia) podcast, ranks higher in Podtrac (#3) than in iHeartRadio (#11).