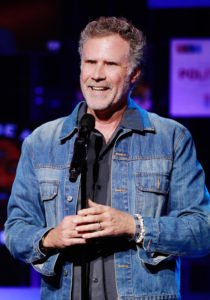 Comedian and media producer Will Ferrell is partnering with iHeartRadio to make a new podcast network with an opening slate of six shows. "The iHeartPodcast Network really knows how to make a podcast," said Ferrell.
The network is called Big Money Players Network. Following are show notes for the initial rollout of six podcasts:
●      "Las Culturistas with Matt Rogers and Bowen Yang" – the premier pop culture weekly fete from the minds of Rogers and Yang, now joins the Big Money Players Network. The duo are your guides through the hottest pop culture moments of the day and the formative experiences of yore that gave way to their titular roles as "Las Culturistas." Listen to the podcast now, here.

"True Romance with Carolina Barlow and Devin Leary" – The "Modern Love" section of the Times meets a 14-year-old girl's Tumblr. The show dives into the trials and tribulations of love stories personal to hosts Carolina Barlow and Devin Leary, fictionalized and historic. They're covering every topic, from how to make a guy fall in love with you while pretending to be chill to the ins and outs of successful famous love stories. Barlow and Leary will also speak with love gurus and discuss age old questions such as: how to handle long distance, how to win an argument completely under your breath in a Denny's and why are we so attracted to Pete Davidson? Listeners can hear all the juicy details now, here.
"My Momma Told Me with Langston Kerman" – Comedian Langston Kerman and his guests take a deep dive into the most exciting, groundbreaking and sometimes problematic Black conspiracy theories. They'll cover silly conspiracies, scary conspiracies and conspiracies they learned from that uncle who used to wear jeans when he went swimming in the public pool. "My Momma Told Me with Langston Kerman" will debut August 2020.

"Bald Talk" – Comedians Brian Huskey and Charlie Sanders interview bald performers, bald celebrities and anyone bald about being bald (and sometimes a hairy person might be in the mix.) The show gets into honest and hilarious conversations about vulnerability, vanity, insecurity and self-image. "Bald Talk" will launch September 2020.
"POOG with Kate Berlant and Jacqueline Novak" – Wellness is a trillion-dollar industry full of scams and snake oil salesmen, and yet, comedians and best friends Berlant and Novak simply can't get enough. Meditating naked in salt caves and shopping for overpriced Ghee is the glue that holds their friendship together, and now for the first time, they're doing it in public. Join them on their obsessive quest through the highs and the lows of the healing world where they will test products and practices, consult healers and experts, and ask the ultimate question: is it truly wellness they're after…or just the thrill of the chase? "POOG with Kate Berlant and Jacqueline Novak" will debut this fall.
"Michael Bolton's Big Sexy Podcast" – Hailing from the Emmy-winning team that conjured up the hilarious hit Netflix musical comedy "Michael Bolton's Big Sexy Valentine's Day Special", Scott Aukerman (Comedy Bang Bang, Between Two Ferns, U Talkin' U2 To Me) and Akiva Schaffer (The Lonely Island, I Think You Should Leave, SNL) reunite with Grammy-winning singer/songwriter Michael Bolton to deliver more big sexy hooks and jokes in an unexpected spoof on the podcast talk show format. This scripted comedy features Michael as a sincerely self-obsessed show host serving up outlandish questions and requests to his wide range of unsuspecting celebrity guests. Set to debut fall 2020.
.