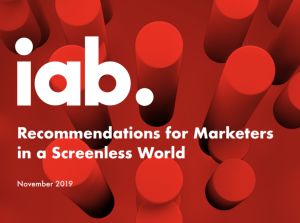 The Interactive Advertising Bureau (IAB) published an online whitepaper today as a guide to marketers for leveraging digital audio in non-screen environments such as smart speakers, and any delivery system for audio where the user might not be using a screen to see or interact with a marketing message. It is titled "Recommendations for Marketers in a Screenless World," (downloadable here) and combines research and advice into a short handbook for understanding how advertising and marketing can fit into new forms of digital audio.
"It is only the beginning of how Gen Z and Millennials will shape audio consumption for years to come."
The paper was produced by a working group of the IAB Audio Committee, representing Spotify, Chartable, DAX, iHeartMedia, Mindshare, NPR, Pandora, and Rubicon Project.
The paper is premised on the fact of a fairly new, and rapidly expanding ecosystem of screenless, voice-controlled audio devices, paired with the singular effectiveness of audio. Some science is quoted to establish the neurological effectiveness of audio. But the main point is about changing consumer behavior, and the proliferation of consumer electronics which convey audio without a visual component — those devices flummox a traditional marketer reliance on visual attention.
"How can marketers prepare to capitalize on increasingly screenless environments?" the whitepaper asks. The answers are divided into three key segments:
Develop and Audio-First Creative Perspective
Activate Media in Existing Audio Content
Create Branded Content and Experiences
As a whole the publication is a compact tutorial determined to help advertisers enhance reach, frequency, brand lift, and sales via the contemporary digital audio ecosystem.
"Digital audio is in the midst of a rebirth with more consumers listening to more audio in varied environments on a diverse array of devices."
The PDF whitepaper is freely available HERE from the IAB website.