The Interactive Advertising Bureau (IAB) has released its annual Podcast Advertising Revenue Study for 2019. It contains last year's metrics and projections for full-year 2020. The data are gathered from self-reporting from many of the industry's leaders, plus "total market" estimates.
COVID-19 disrupted projections for 2020 expected growth, and the report includes both pre-COVID and post-COVID numbers.
Here are key points:
With an expected 14.7% growth rate for 2020 (with COVID disruption built in), podcast ad revenue will near $1-billion in 2020.
Q3 and Q4 revenues are expected to rebound.
Total market year-over-year revenue in 2019 ($708M) was an increase of 48% over 2018 ($479M).
The News category is the leading revenue generator, in the U.S., capturing 22% of revenues.
Host-read ads contributed 66% of podcast revenues in 2019 (not necessarily the same as 66% of the ads.)
The original (pre-COVID) revenue growth projection for 2019 was 29.6%. As noted above, the post-COVID projection is 14.7%. It might be worth noting that "post-COVID" is a questionable concept, which fact certainly did not escape the IAB or PwC which conducts the study. So, post-COVID is a convenient label used to get the report out in the usual midyear time.
Related to that point, we see in the report that projections were lowered by double-digit percentages in April, May, and June — and June projections suffered the most, dropping 19%.
Podcast asd campaigns were cancelled and/or paused, and that is the "likely cause" of lower Q1-Q2 2020 revenue. The top instance of this was cancelled campaigns that were booked, but had not started, which represented 31% of the phenomenon.
In this year's report we do not find dollar-amount projections for 2020, 2021, and 2022. But it does supply percentage revenue growth for each year. As noted above, the revised-by-COVID projection is 14.7% growth. then, for 2021 and 2020, there is no COVID comparison, just straight projections, which are:
Forecast Growth 2021: 55%
Forecast Growth 2022: 36%
The graphic below shows the leaps by which podcast revenue has grown in 2017=2019: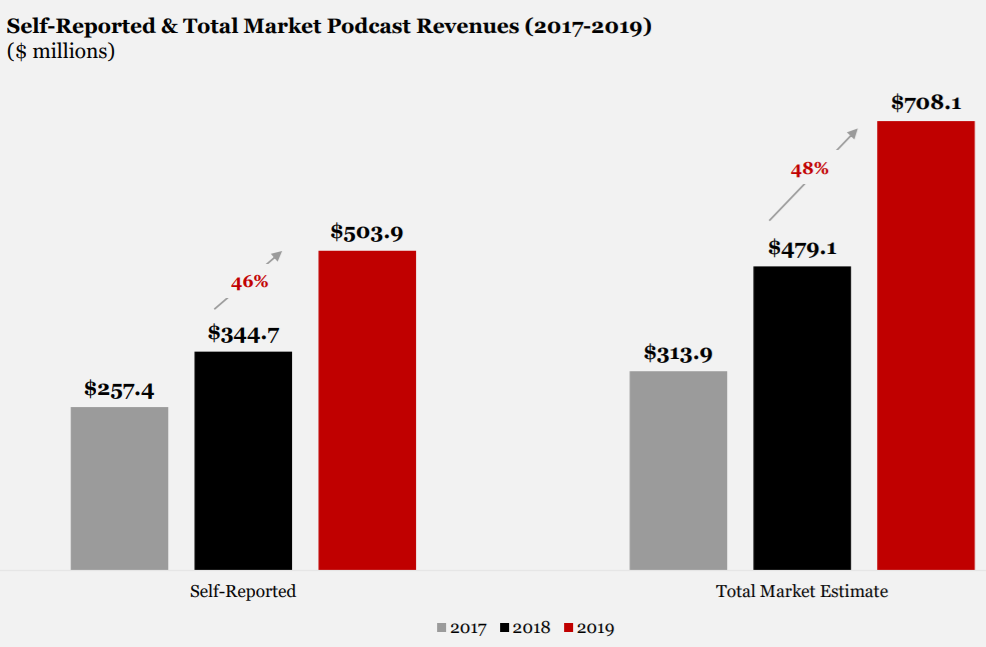 Podcasting is famous for DTC (direct to consumer) advertising (e.g. mattresses, web services, postage), in 2019 that category remained the leader with 225 of revenue. Financial Services came in second. Direct reponse ads (you know, those codes) represented 54% of advertising. Finallyh, host-read ads still dominate with 66%, up a bit from 63% in 2018.