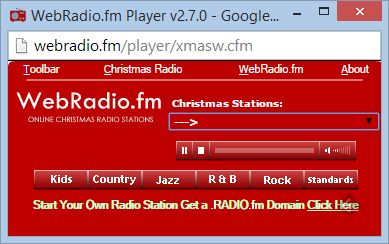 More Christmas listening than anyone can bear, thanks to George Bundy's excellent annual directory of Christmas streaming at Webradio.fm. Bundy is the founder and CEO of BRS Media, which administers the dot-fm domain extension.
The Christmas Internet Radio page is a listing of broadcasters whose stations (or HD extensions) are into all-Christmas, followed by a long list of pureplay holiday programming. You can launch the streams directly from the directory, or visit websites and go from there. It is a joyous feast of holiday music.
Be sure to try the pop-out player, which makes it easy to switch stations in a more compressed directory format.