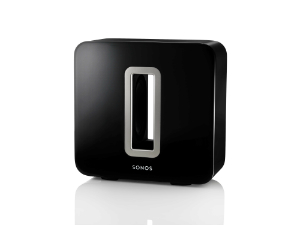 On one hand, Google's newly-announced partnership with Sonos, which builds a highly regarded line of home WiFi speakers, is just another distribution agreement. On the other hand, the six-month trial represents the latest supposition that short trials of streaming services don't convert well to paying accounts.
The deal: buy a Sonos WiFi-speaker system before July 5, and receive a six-month free trial of the laboriously-named Google Play Music All Access. Sonos started including All Access as a built-in service a month ago.
Satellite service SiriusXM offers months-long trials (typically between three and six months depending on the car distribution), and reportedly converts 45% of trial users to paying users. Streaming services generally offer shorter trial periods — Beats Music gave away two weeks when it launched in January, into a market that never seen the service before. At the same time, through its partnership with AT&T, wireless customers got an extended view of Beats Music before deciding whether to subscribe.
Likewise, Spotify's recently-announced partnership with Sprint offers three-month or six-month trials to Sprint's customers. Spotify cheif executive Daniel Ek acknowledged that reaching mainstream users, and indoctrinating them to the value of streaming music, requires special treatment.
In our view, it is not just uninitiated users at stake. If any music service hopes to take share from its competitors in a crowded field, it must allow time for trial users to build equity in the service. That means building playlists, downloading songs to mobile devices, and training the platform to produce desired music. Giving the trial users time to make that investment increases the likelihood that they will pay to keep their investments.