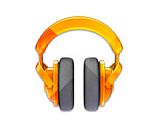 Google expanded its streaming-music service into the Canadian market. The inelegantly-named Google Play Music All Access service is now available in 26 countries.
There is a lot of "Finally!" in this morning's media coverage of Google's expansion. Canada is a music-starved regional frontier, and Canadian music-lovers complain about poor choice of music services compared to their American neighbors. Music licensing is the bottleneck of international expansion, as right-holders operate differently across borders, and government royalty regulations also differ from nation to nation.
Accordingly, some of the leading music services in the American market have been slow to cross the northern border and migrate overseas. Pandora, iTunes Radio, Spotify, and Rhapsody are all unavailable in Canada. Of those four examples, Spotify and Rhapsody have far-flung distribution in other contents. Pandora and iTunes Radio operate in the U.S. and Australia (Pandora also plays in New Zealand).
Google's Canadian launch, announced in a blog post, features a robust 25-million-track catalog, and, as with the flagship U.S. service, allows each user to upload up to 20,000 owned tracks which live alongside Google's cloud catalog. All Access is so named because it provides seamless playing and mixing of a user's owned music and Google's celestial jukebox.