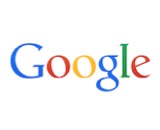 Are lyrics the new hip feature for music services? Hot on the heels of Deezer announcing the addition of Lyrics to its streaming service, Google is now displaying the words to certain songs in its search results.
We reached out to Darryl Ballantyne, founder and CEO of LyricFind, the song lyrics provider to Deezer and other platforms. Ballantyne told us that his company powers the lyrics for Google's YouTube music service (called Music Key), but that Google sources lyrics directly from rights-holders for the lyrics which appear in search results.
For the tracks getting the lyric treatment, a large number of the lines appear at the top of the hits with a link to the full lyrics on Google Play. Not all tracks have lyrics stored in Google Play, and it's unclear where or how Google is sourcing that information. There also doesn't seem to be a lyrics feature directly integrated into the All Access subscription service.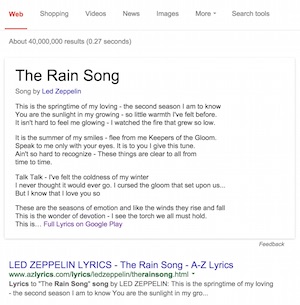 Google added a new "Listen Now" feature to search results for artists and albums in August. These point listeners to legit music sources, including Google Play, Rhapsody, Beats Music, and Spotify. When that feature launched, we pondered when Google might offer better artist and label support for individual track searches. Our spark was Led Zeppelin's "Rain Song," which yields a YouTube fan video as the top hit for a search of that title. But now, searching "rain song lyrics" does bring you into the Google Play network where you can buy the track.
Surprisingly, Google has been reticent to share details about exactly how this lyrics service works. Its only statement so far on the feature has been an homage, fittingly, to Led Zeppelin: "There's a feeling you get when you turn to a song and you know that the words have two meanings. Well it's whispered that now if you go search the tune, maybe Google will lead you to reason. Ooh, it makes you wonder." Cute.