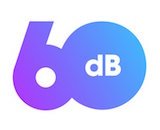 Google has acquired podcast company 60db. The short-form audio platform announced in a blog post that it will be joining Google starting November 10, but did not disclose price or financial details of the deal. 60db was designed to highlight timely, personalized stories for listeners, as well as discovery that would allow creators to reach new audiences.
"As we considered next steps for 60dB, we came to the conclusion that to accomplish our goals we'd be better positioned if we joined someone with scale who shared our vision for what was possible with digital audio," the three co-founders said in the blog post.
It seems most likely that 60db will be folded into Google Play Music, which has been building up its presence as a podcasting hub in recent years. In addition to working with outside content partners, Google debuted its first original podcast in March.