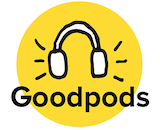 We saw a wave of startups looking to combine music and social media in meaningful ways back in 2014-2015. Now, a fresh crop of entrepreneurs is looking to apply social networks to podcasting.
The latest startup to try this combination is Goodpods. It's helmed by sibling team JJ Ramberg and Ken Ramberg. The pair previously worked on an online coupon project called Goodshop. JJ Ramberg has been the more visible of the duo, hosting Your Business on NBC News and a podcast titled Been There Built That.
Goodpods promises suggestions from friends and influencers as well as a podcast listening platform. Users can see what their connections are tuning in to and directly recommend episodes to their friends. The platform offers chatting with fellow fans and with podcast hosts. It is currently available on iOS.