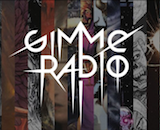 Gimme Radio announced that Megadeth member Dave Mustaine is launching a show on the all-metal streaming radio platform. Mustaine will host and DJ for the weekly program every Thursday beginning November 9.
"I've always wanted to do radio that is strictly my show, my songs, my way," Mustaine said. "Gimme Radio lets me play what I want to play, and say what I want to say…no restrictions."
"We've had a preview of what Dave is planning to talk about on some of these shows, and heard some of his stories – and we know that our listeners and his fans are going to be blown away," said Tyler Lenane, co-founder and CEO of Gimme Radio. "This show shouldn't be missed by any metal fan."
The metal streaming radio service launched in June. Today, it also debuted a new iOS app that lets fans access Gimme Radio on their phones. It has options for listening to shows, purchasing music, and building a wish list for their music libraries. The Gimme Live feed also allows users to interact with DJs, artists, and other members of the metal community.