Will the Future of Audio panel at RAIN Summit Europe, Nov. 4 in London, answer every question facing the industry? Possibly! For sure, it will be a fascinating discussion with an expert panel representing different dimensions of audio. We reached out to the five panelists to capture glimpses of the future.
Michael Hill, Managing Director of Radioplayer, the U.K. radio station aggregator, is aligned with broadcast ("proper radio," in his words) while looking insightfully down the road. "Down the road" is the way to describe a large part of Hill's thinking, which focuses on the connected car. As such, it was natural to ask whether streaming audio loomed as a threat — in the car and out of it. He will describe key differences between the U.K. and the U.S.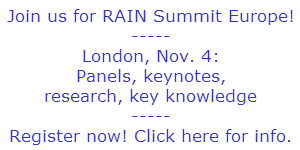 More connected car advocacy will come from Scott Lyons, Berlin-based head of Ford's business development of connected services in Europe. Lyons believes that "connected car" is still in early days, with many meanings to many people, and that educating users is key to its future. He shines light on the future of radio in the car.
Miles Palmer, who forges international content partnerships for U.S.-based TuneIn, acknowledges the connected-car space. But Palmer also emphasizes a different consumer trend taking place in the home that he calls a "revolution" in European markets.
Simon Cole, CEO of 7digital (which provides technology behind Radioplayer and other services), aligns with the idea of simplified, unified access to audio entertainment, with a theoretical construct he calls the "Entertain Me" button. Where is that button? How is it used? How can it simplify the many differing platforms consumers must cope with?
Platforms, and the meme of "platformism," comes up with each panelist. Matt Deegan, Creative Director of Folder Media, explains why U.K. radio is already "platform neutral" to some extent. He also notes the emergence of advertising technology, which is changing entrepreneurship in digital audio.
RAIN Summit Europe is the largest meetup of Internet radio and online audio professionals. Join broadcast radio execs, online audio entrepreneurs, sales professionals, and technology visionaries for a day-long event featuring panels and presentations, speeches, networking … and the most renowned cocktail party in the industry. CLICK HERE for info and registration.