"As the consumption of audio continues to burgeon across music streaming platforms, podcasts, smart speakers, and more, what a brand sounds like is becoming as critical to audience engagement and retention efforts as what it looks like." –Veritonic
That is how audio intelligence platform Veritonic describes the importance of audio logos to brands. Audio logos are produced music/sounds attached to a company branding, which serve as sonic identifiers. Veritonic developed its Audio Intelligence Platform to address the need to evaluate audio logo effectiveness, the output of which is called the Audio Score.
The US Audio Logo Index publicizes those scores for 100 U.S. brands. (Get it HERE.) In the 2022 edition, publicly released today, coffee company Folger's wins the #1 spot. Here's what it sounds like:
NOTE: Many of the logos are much shorter than Folger's, which to our ears sounds like a jingle. In a recent business conference presented by Veritonic and attended by RAIN News, attendees witnessed an elaborate staging and recreation of the Tostados logo, which runs 1.4 seconds. (The Tostitos logo does not appear in the 2022 results.
Veritonic judges sonic brand effectiveness according to three main criteria:
Creative Resonance. Effective creative is the bedrock of a powerful audio logo. The most effective executions
elicit resonant and positive feelings towards a brand.
Recall. Memorability of a brand is paramount for winning future sales. For that reason, we measure recall 48-hours
from when the logo was first heard to confirm that your creative packed a memorable punch.
Association. Association. Your audio logo is only effective if your brand is continuously and consistently
associated with it (and not one of your competitors). For this reason, association is an important attribute that is
factored into our measurement of audio logo success.
The graphic below illustrates the top-10 list of Veritonic-evaluated most effective audio brand identifiers: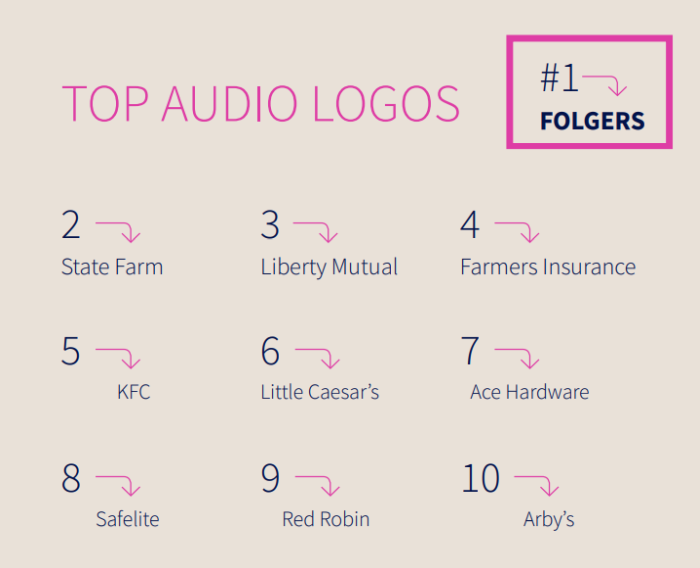 Again, the Veritonic 2022 US Audio Logo Index is a 51-page free-to-download PDF (HERE), thick with information about audio logos in different industry segments.
.