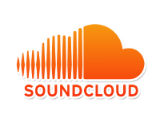 SoundCloud introduced a new program designed to highlight up-and-coming artists who launch their careers on the audio platform. First On SoundCloud will promote performers with a blend of new music, video, and photo. The inaugural ten artists for the program have been chosen, but anyone can possibly be picked in the future.
Performers can upload original tracks to the platform with the hashtag #SCFIRST for the chance to be included in the First On SoundCloud playlist on the service's home screen. Those uploads tagged #SCFIRST will also be automatically shared to Twitter. Some artists will also be spotlighted in SoundCloud's newsletters and blog, while using the tag also enters artists into consideration for joining the SoundCloud Premier monetization program.
The first round of creators featured for the program are Kehlani, Galimatias, Taylor Bennett, Lorine Chia, Melo Makes Music, Party Pupils, Jay Prince, Cathedrals, starRo, and Witt Lowry.