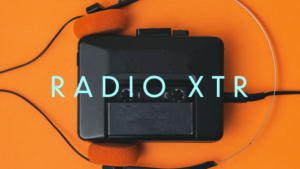 In an example of podcasting's growing allure across media categories, the film and television documentary studio XTR has opened a podcast division, and is announcing its first production. The new division is called Radio XTR — an interesting call-back to broadcast for a new media outfit.
The unit's first podcast will be Human Drama Thing, hosted by Emmy Award-winning filmmaker Davy Rothbart (This American Life) and David Weinberg (KCRW). The company calls it "a deep dive into uniquely compelling stories from the world of documentary film and TV," so it's a close-to-home beginning for the network. It will provide a documentary peel-back of classic documentaries including Paris Is Burning and Roger & Me.
Another show under development is Shelved, in partnership with Audible and Gunpowder & Sky. It's an investigative podcast series that will examine songs and albums that, for one reason or another, were shelved.
Radio XTR has also enlisted the talents of Ashley Ray Harris, comedian, writer and pop culture critic host of TV, I Say, a podcast which has featured guests to the likes Seth Rogen, Roxane Gay and Nicco Annan. Harris will be producing an exclusive crossover series that will stream exclusively on STR's Documentary+ platform. Radio XTR is also announcing a partnership with SomeFriends, the premium audio-first media company telling stories with the mission of championing inclusion through diversity, led by Andrew Kuo and Kareem Rahma, who also serves as a Senior Advisor to XTR.
"XTR's focus has always been to build the best nonfiction studio in the world and podcasts are the next evolution of that and have always been part of the roadmap," said Justin Lacob, Head of Development at XTR. "With the launch of Documentary+, we are able to house some of the best documentaries of our time and give audiences what they want – we're excited to explore audio as a new way to dive into nonfiction stories and give it our own spin."
.