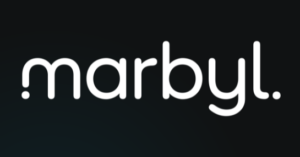 Marbyl, a nascent podcast discovery solution created by audio startup Tree Goat Media, seeks to solve a particular problem: "Topics people want are buried inside of long listening experiences" — that according to a presentation deck the company shared with RAIN News.
Marbyl's solution uses machine learning to analyze podcast content, identify topics discussed in the show, and surface those topical hooks as search results. So, as an example, a history podcast might discuss ancient cuisine, and be of interest to foodies who wouldn't typically follow that podcast's feed. (So to speak.)
The app's premise rests on the sheer volume of podcasting. The founders count 92-million episodes averaging 46 minutes each — 4.2-billion minutes of content which is opaque to all kinds of topics inside the shows. Identifying those topics and surfacing them in the Marbyl app is what the developers neatly call "inside out discovery."
"Tree Goat Media has identified a gap in the podcasting space that significantly inhibits the growth and monetization of the medium," The company states. "Our proprietary Marbyl technology and platform is being built to close the gap."
The Marbyl app is designed to harness the AI tech and to foster a social discovery environment. Searching brings out hidden topics in podcasts which have signed onto the platform, and users can socialize their finds to encourage viral listening. The search findings which get socialized are called "marbyls."  (Carrying along that coinage, the machine learning application is called "marbylizing" a podcast.)
In an email conversation with founders Mike Kakoyiannis and Sherry Mills, we learned that the Marbyl app and its underlying technology have unlimited capacity ("infinitely scalable," Kakoyiannis said), but is building up slowly during the current development period. The company is not scraping podcasts indiscriminately, but is committed to a permission-based model in which suppliers (shows and networks) sign a content rights agreement.
"We are currently in conversations with PodcastOne," Kakoyiannis told us, "which has been very supportive of us and see this as a potential growth opportunity, and are hopeful to finalize and sign a content rights agreement. We also have a green light from The Investor's Podcast Network."
The current business plan is to offer free "marbylization" service to both indies and networks. Premium plans will offer more features such as advanced analytics. Right now the project is in pre-beta, with an invitation-only public beta scheduled to start in October. Interested creators and networks can register their interest HERE. (A "Buy-Side Subscriptions" tier is also planned for advertisers and agency buyers.)
Another interesting revenue stream is planned as "Sponsored Marbyls," which is based on collections of topical words (called "Marbyl Words") pulled from multiple shows. In the illustration below, the Marbyl Word is "Productivity" and the illustrated sponsor is Dunkin' (which would presumably be to advertise the outlet's coffee as a productivity aid).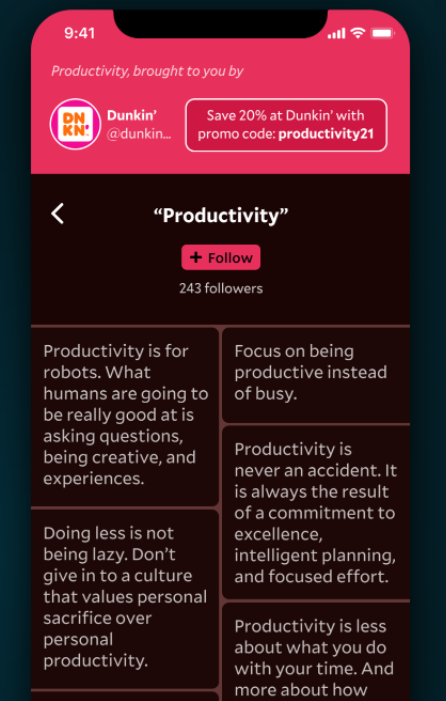 Sponsored Marbyls are designed to be available to advertisers, naturally, and also to podcasters hoping to elevate their exposure in the app. The following image illustrates how one set of search results can be sponsored by sell-side and buy-side: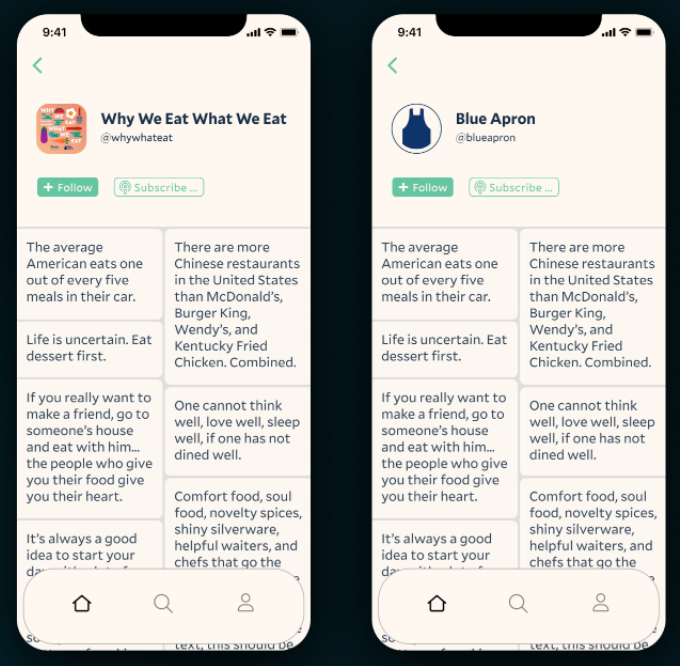 Future plans for Marbyl include non-English markets, and support for video.
.