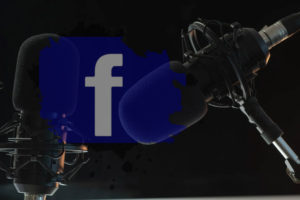 Facebook is exiting the podcast space which the company was barely in. This news comes from Bloomberg, which says the company is "now focused on other initiatives, disappointing some providers."
No shut-off date is publicly assigned to Facebook's various rudimentary explorations of structured audio. The audio hub will be closed, according to Bloomberg's unnamed source, as well as the company's Soundbites product. Live Audio Rooms (one of many reflexive Clubhouse regurgitations) will become part of Facebook Live — users will be able to choose going live with audio only. (That's actually pretty interesting, in our opinion.)
Facebook entered the podcast space with a splash in June of last year, with announcements of high-profile podcast partners. In July we asked, Facebook Podcasts: Where are they? — after failing to find a single example from the named participants.
In November, we tried again, leaving behind the non-participating stars and seeking any kind of basic podcast publishing initiative on the platform. "From the start, finding podcasts is not easy in Facebook," was our inauspicious finding, and "Clearly not ready for primetime" was our conclusion. (See the review HERE.)
So, Facebook's exit from a venue it never properly entered shouldn't be news … except it's Facebook, the world's biggest social platform —  which, by the way, in a complaint we've been making for years, still does not have a simple, in-feed audio player for presenting native audio.
Facebook. Really. Just. Doesn't. Like. Audio … or respect it.
.