Facebook belatedly joins the audio age today … but just barely. The company is simultaneously launching Facebook Podcasts and the new Audio Rooms product, both in severely limited releases.
Facebook's ideal seems to be placing these products into the hands of known creators and influencers first. From the company announcement: "Live Audio Rooms on Facebook enable you to discover, listen in on and join live conversations with public figures, experts and others about topics you're interested in. Public figures can invite friends, followers, verified public figures, or any listeners in the room to be a speaker." (That announcement wasn't easy to find, by the way; at the time of this post it did not appear on FB's News page or blog.)
Audio Rooms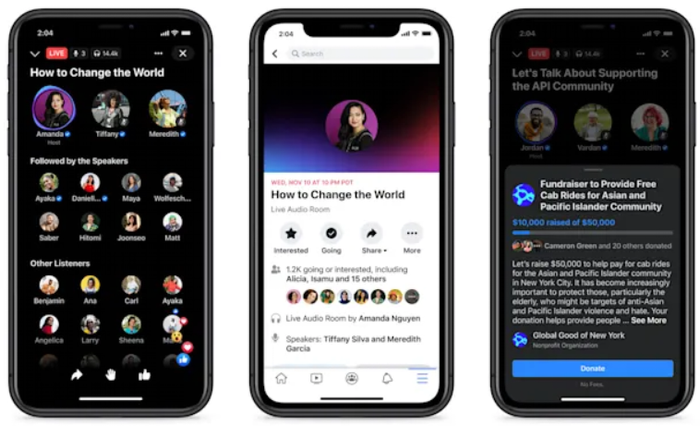 While the initial leaders-only approach is disagreeably effete, an existing Rooms product is universally accessible. Yes, there is an existing one — Messenger Rooms, which are video/audio gathering spots. While formally connected to Facebook's instant messaging product, they are also available within standard Facebook, desktop and mobile. (Promo here.)
While only a few may create a new Audio Room, anyone can enter a Room in progress. There is a gaming aspect: Facebook Room attendees may bestow visual icons called Stars — similar to hitting "Like" on the main platform. (In Spotify's new Greenroom audio-meeting experience, there is something similar with Gems.) Unlike the main "like" icon in traditional Facebook, Audio Room Stars are purchased, available in packs. Bestowing a Star in an Audio Room lifts the user to the "front row" of that room — more visible. These Stars seem to comprise both a gaming aspect to Audio Rooms, and an e-commerce lane.
Audio Rooms are available to selected FaceBook Groups, which seems like the most natural  venue for them. Presumably, the rollout will eventually envelop all Groups.
Facebook Podcasts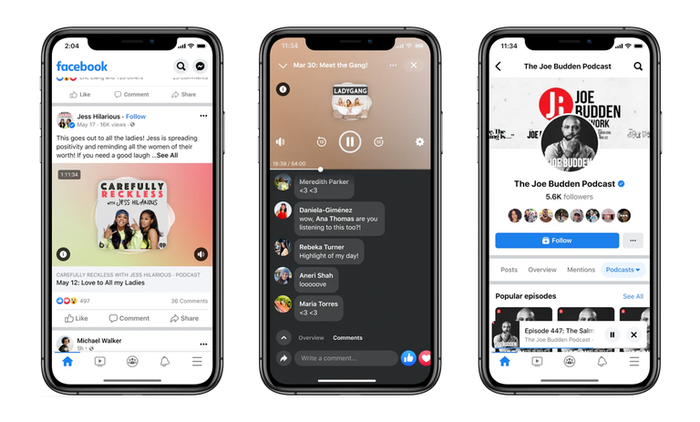 The podcast rollout (which is likewise unmentioned on FB's public-facing news pages) is paper-thin. From Facebook: "To start, the initial slate of podcasts will include Joe Budden of The Joe Budden Podcast; "Jess Hilarious" of Carefully Reckless from The Black Effect Podcast Network and iHeartRadio; Keltie Knight, Becca Tobin, and Jac Vanek of the LadyGang; and Nicaila Matthews Okome of Side Hustle Pro."
So, four out of two-million+ podcasts. Well, you've got to start somewhere. "We'll continue to add more podcasts in the coming weeks," Facebook says. We say this is an excruciatingly slow rollout for a pretty straightforward product. Of course, FB's years-long ignorance of native audio probably leaves a gaping expertise gap. Anyway, the merging of podcast listening with live community commenting is an exciting prospect. We look forward to seeing how it affects the status of Apple's star-and-comment rating system, and whether Facebook will alter podcasters' earnest (and sometimes plaintive) supplication to listeners to leave an Apple comment.
The product itself opens an audio player which sits alongside the main FB session, much as the video player does (but smaller).
When fully rolled out, and presumably an open platform for podcast distribution, Facebook Podcasts will become a de facto podcast app, attached to a gigantic community infrastructure. Facebook predicts add-on features for podcasters, including clip creation and captions. In other words, Facebook is in a position to copy the most useful and successful features from existing podcast apps and creative services, and plant them into its 2.85-billion monthly active audience.
.