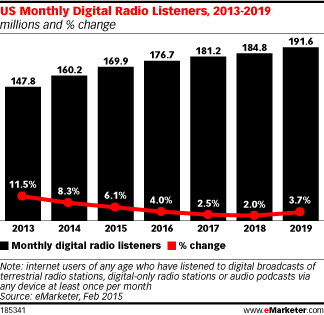 A recently released eMarketer study bundles a growth projection with an assessment of advertiser sentiment. On the growth side, the research company sees the audience for online radio growing from 160-million last year to 192-million in 2019. Included in that projection are terrestrial webcasts, pureplay Internet radio, and podcdasts. All listening devices, mobile and desktop, are included.
While the platforms are identified in eMarketer's prediction, the growth of the whole category leads into an assessment of how advertisers increasingly regard it.
"Some marketers don't even distinguish between streaming services and terrestrial or satellite radio," according to eMarketer's report summary. "Advertisers are after an audience, and they see digital radio as a platform that reaches an engaged user who can be precisely targeted by geography, demographics, social connections, listening behavior and other critical metrics."
(eMarketer uses "digital radio" to mean streaming audio.)
Advertisers increasingly regard audio marketing as a unified medium, erasing the platform divisions that would otherwise separate braodcast from streaming, or interactive services from non-interactive services. "As digital radio continues to mature, advertisers are increasingly looking at the entire radio universe as a single budget item rather than segmenting it by platforms such as traditional, digital and satellite."
The report, titled Digital Radio: Led by Pandora, Now Robust 'Audio' Ad Channel, is summarized here.