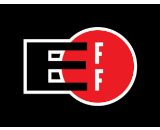 The Electronic Frontier Foundation will have a hearing today with the U.S. Patent and Trademark Office to argue its case for invalidating key elements of patents that Personal Audio has used to sue podcasters. The EFF received a go-ahead to challenge the patent's validity in April.
Personal Audio claims that it invented podcasting and should be paid royalties by all podcasters for use of its idea. Today, EFF's legal counsel will put forth the argument that Personal Audio didn't invent anything new or non-obvious related to podcasting, and thus should not have a patent. The organization has pointed to examples of serialized audio programs that existed prior to the filing of the Personal Audio patent as support for its position.
Personal Audio brought a highly-publicized lawsuit against comedian and podcaster Adam Carrola in 2013 that sparked a major campaign from the EFF to remove the threat of litigation against any and all podcasters. The two parties have since settled. The company did win a suit against CBS, with damages of $1.3 million awarded. It has outstanding lawsuits against NBC and FOX as well.