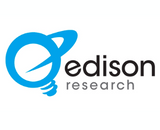 Edison Research announced the launch of Edison Podcast Metrics UK, today at the Podcast Show 2023 taking place in London. It will be an expansion of the U.S. Podcast Metrics product, which launched in 2019 as Edison Top Podcast Shows.
There are many podcast rankers. But Edison Podcast Metrics claims uniqueness based on its survey model. Most rankers measure server-side downloads and audience sizes, restricted to the clients of the measuring service. Edison, by surveying populations at large, can claim a more comprehensive listing of podcast show popularity.
In addition to avoiding that server-client limitation, Edison't survey method avoids the closed-network problem which places non-RSS shows out of reach in other studies. The headline example of this closed-network problem is The Joe Rogan Experience, a Spotify exclusive and one of the most popular podcasts in the world. Rogan cannot appear in any non-Spotify ranker which measures downloads.
"Thousands of weekly podcast listeners are surveyed each quarter for the service, and listening behaviour is collected regardless of listening platform," Edison states. The company also revealed that UK surveying is already underway, and will result in the launch of Podcast Metrics UK for Q2, available to subscribers in Q3. A minimum of 2,000 weekly podcast listeners in the UK, age 15 and older, are included.
In this announcement, Edison leaked five podcasts which are leading in early results — while emphasizing that the ongoing fieldwork is incomplete. They are: The Diary of a CEO with Steven Bartlett, The Joe Rogan Experience, (there it is) Off Menu with Ed Gamble and James Acaster, The Rest is Politics, and Shagged Married Annoyed.
"We are incredibly enthusiastic about the expansion of Edison Podcast Metrics to the UK. We have seen how beneficial the data has been to those in the podcast industry in the U.S. and we are looking forward to seeing the thriving podcast community in the UK take advantage of this research," said Edison Research Senior Vice President Melissa Kiesche.
---