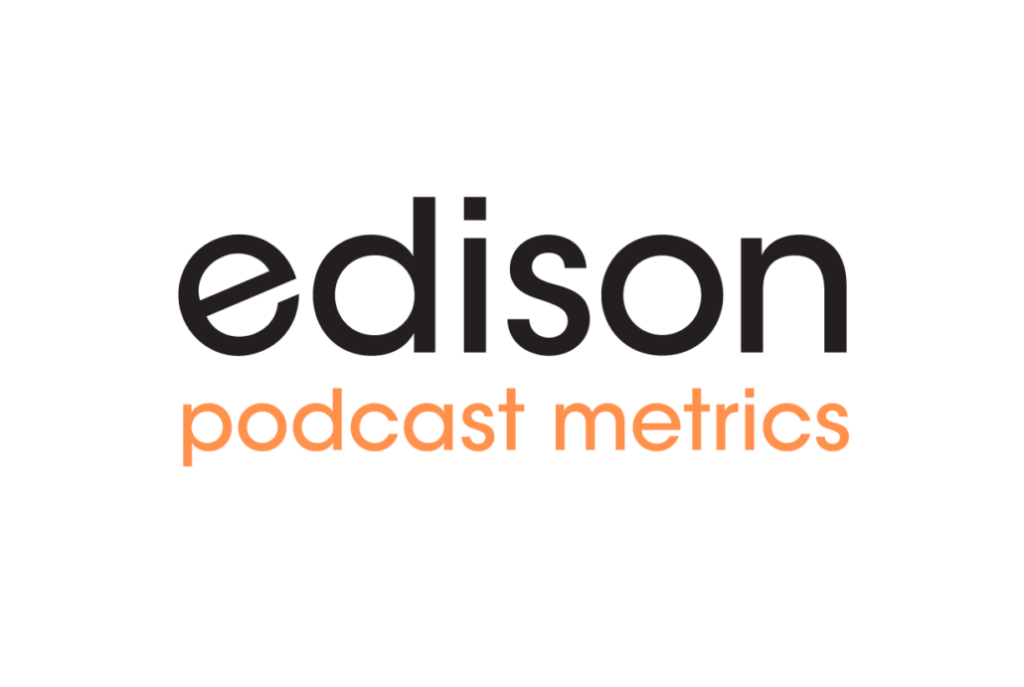 Edison Research released its comprehensive "U.S. Top 50 Podcasts" chart for Q3 2022 yesterday, with its top 10 largely stable, albeit with "Dateline NBC" bumping sex-talk podcast "Call Her Daddy" out of the top 10.
This list ranks the 50 biggest podcasts by audience size, among weekly podcast listeners, based on Edison Podcast Metrics.

The top 10 shows based on measurement from Q4 2021 through Q3 2022 — i.e., a 12-month rolling average — are as follows:  

The Joe Rogan Experience 

Crime Junkie

 

The Daily 

 

This American Life 

The Ben Shapiro Show (up from #7 in Q2)  

Stuff You Should Know 

My Favorite Murder (down from #5 in Q2) 

Morbid: A True Crime Podcast (up from #9 in Q2)

Dateline NBC (up from #11 in Q2)

Office Ladies
The Joe Rogan Experience remains the most-listened-to podcast in the U.S. and has taken the top spot since Edison Research began reporting in 2020.
 
Movers with the Top 10 for Q3 2022: The Ben Shapiro Show climbed another two rank positions in this report to #5, up from #7 in Q2, and #9 in Q1.  Morbid: A True Crime Podcast (#8), and Dateline NBC (#9) each moved up two rank positions from Q2. 
More than a handful podcasts derived from the world of public radio made the list, including ""This American Life," "Serial" (albeit now owned by The New York Times), five NPR-produced podcasts ("Wait Wait… Don't Tell Me" (in association with WBEZ), "NPR News Now," "Up First," "Planet Money," and "Fresh Air" (in association with WHYY)), WNYC Studios's "Radiolab, and "Freakonomics Radio."
Despite tens of millions of dollars of investment spending in podcasting by U.S. commercial AM/FM broadcast groups, only iHeart's "Stuff You Should Know" podcast and Cumulus's "The Dan Bongino Show" were popular enough nationally to make Edison's top 50.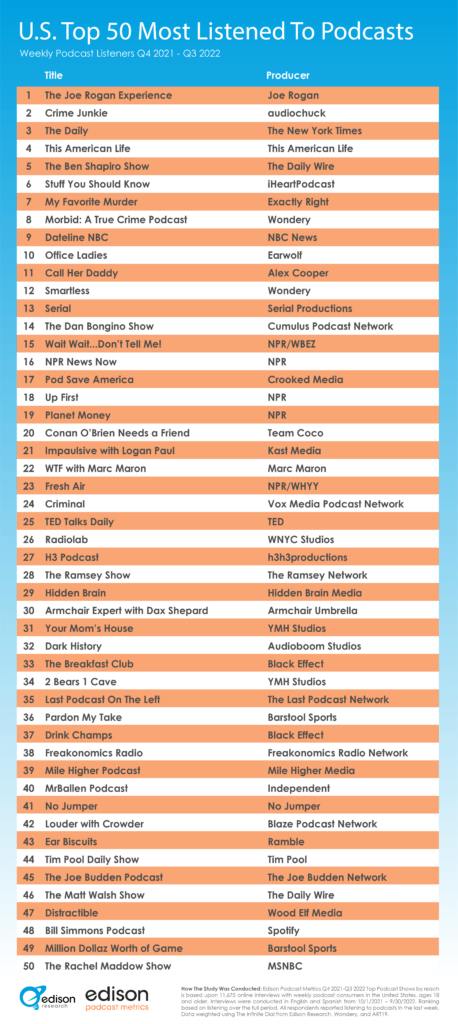 It should be noted that because the methodology looks at each podcast's average audience over the full year ending in September 2022, it's very difficult for new podcasts (e.g., Tenderfoot TV, Resonate, and Cadence13's "Undetermined" (currently #1 on Apple's U.S. chart), Lemonada Media's "Raised By Ricki with Ricki Lake and Kalen Allen" (#4) and MSNBC's "Rachel Maddow Presents: Ultra") (#8) to make the Edison Top 50 list.