The latest report shared by Edison Research is an examination into the gender divides in podcasting. The results were initially presented at the She Podcasts LIVE event earlier this month.
The report found that 29% of women have listened to a podcast in the last month, compared with 36% of men. Women are also drawing closer to an even split in the makeup of the monthly podcast audience, now holding 46% of the base.
It also found that women are more likely to be currently defined as 'rookie' audience members, or people who have listened to podcasts for six months or less. Women account for 53% of that group, compared with just 37% among the 'veteran' group, defined as listening to podcasts for three or more years.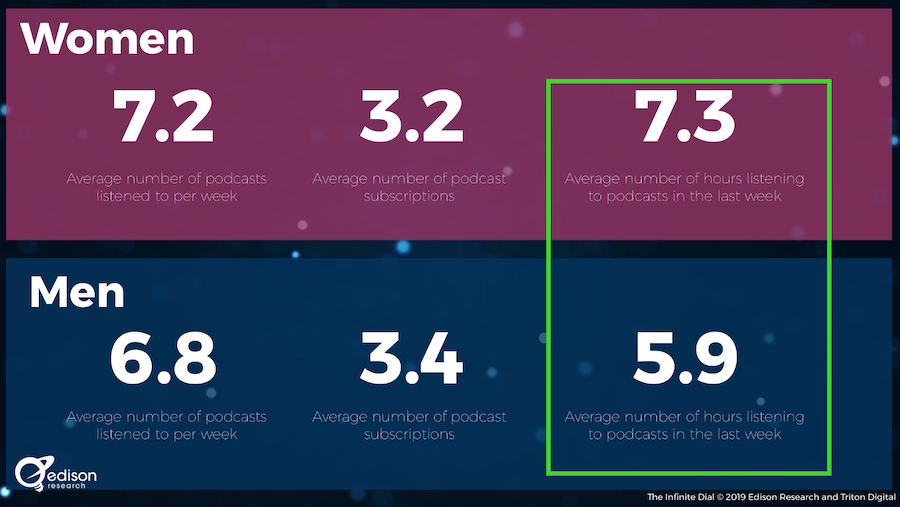 Despite often being newer to the format, women listen to more podcasts per week on average than men. Women spent an average of 7.3 hours listening to podcasts in the past week, compared with 5.9 hours for men.
Women's preferences in terms of podcast discovery also showed some divergence from men's habits. Women were more likely to take show recommendations from their friends and family (25% compared with 18% for men). About a fifth (19%) of women found shows based on social media posts, while only 14% of men did. There was also a marked gender divide in discovering shows through Internet searches: 34% for men and just 18% for women.
Advertising also sparked different reactions among listeners. About a third (38%) of women said they were "much more likely" or "somewhat more likely" to consider brands advertised on podcasts, whereas the rate was 52% among men.