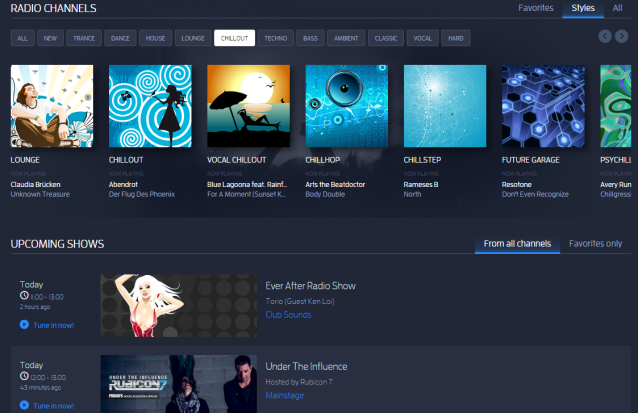 In a mile-marker along the way to a major reinvention of its service, electronic music portal Digitally Imported launched a newly designed interface, with new functions and new programs.
One important new feature in the web app is a "persistent player," which keeps the music going as the user moves around the site.
On the content side, DI.fm is starting a new series called DI Journeys, and original two-hour program of music, interviews, and custom mixes. the live debut of this show is tomorrow, january 31, at 1:00pm EST — tune into the Trance channel at DI.fm.
Speaking of channels, the new design makes it easier than ever to find and favorite channels in the DI portfolio of human-curated music. Clicking a genre button creates a row of sub-genres. Also new — a menu of live programs like Under the Influence, Forte, and Green Interval. We're told that more detailed descriptions will be added to the interface of music choices in the beta site. In the meantime, we're sold on the ultra-clean, easily understood usability of DI's new design.
All this is a stepping stone to dramatically new functions planned for the future (as we reported here.) The service will become more interactive, including on-demand access of artists and tracks. A slate of at least nine electronica record labels have been signed to partnerships.
Electronica is one of the hottest genres in music. EDM (electronic Dance Music), a genre of electronica, is helping drive the expanded listenership. Interestingly, EDM's genre success has been built through streaming, without the traditional power levers of radio and major record labels.